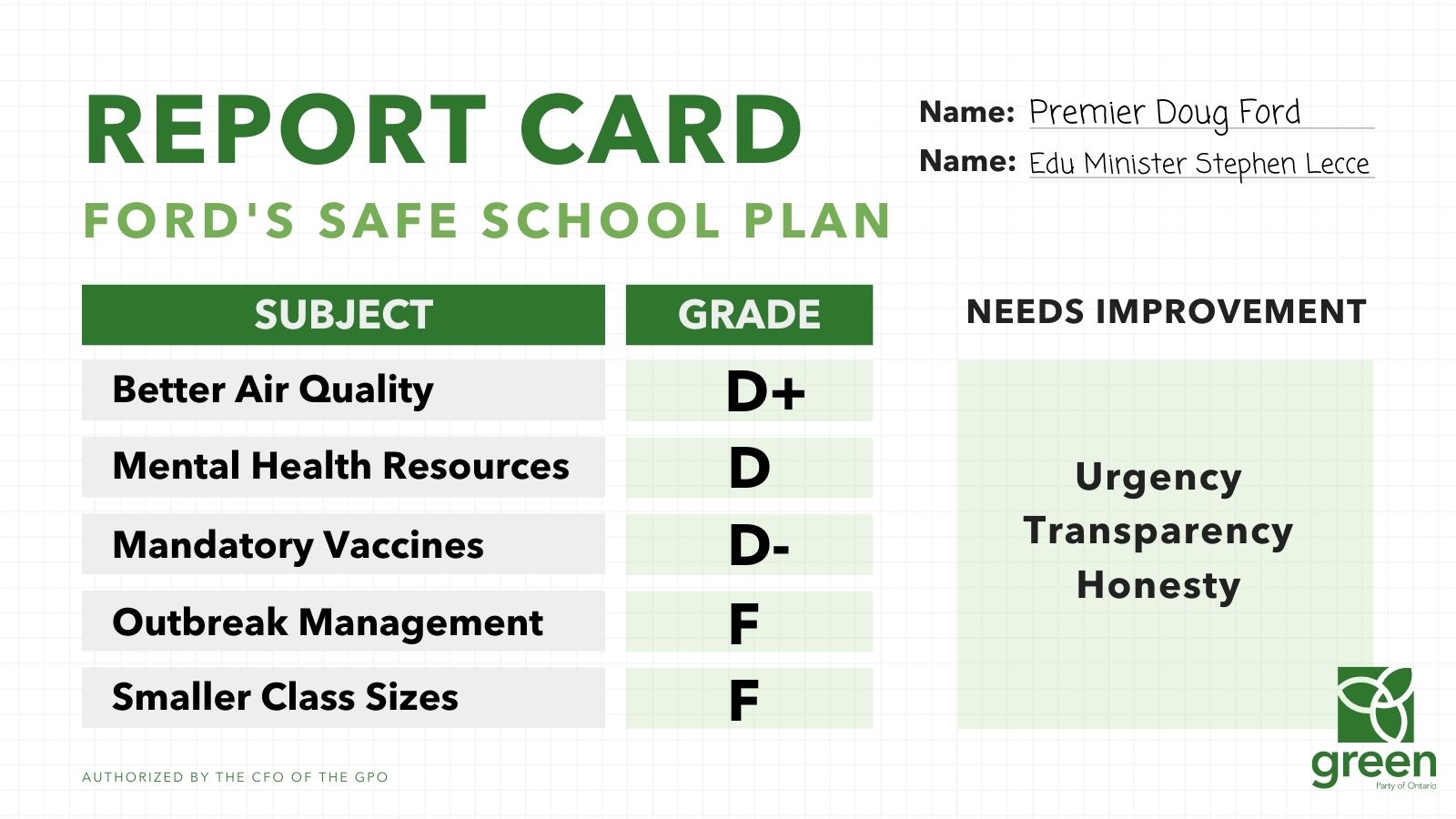 TORONTO — This morning, Ontario Green Leader Mike Schreiner released a report card highlighting Premier Ford and Minister Lecce's failed back-to-school plan.
Millions of students across Ontario head back to school this week, with children under 12 still ineligible for vaccines. But the Ford government has failed to implement the vast majority of measures recommended by public health experts that are necessary to keep schools open and keep students safe.
"We were promised a 'very comprehensive back-to-school plan' but what we got was riddled with half measures and short on details. It gets failing grades across the board:
Better air quality/ventilation: D+
Mental health resources: D
Mandatory vaccines: D-
Outbreak management: F
Lower class sizes: F
"Doug Ford has failed to take the necessary measures to make our schools safer. And in doing so, he's failed our children," Schreiner said.
Schreiner called on Doug Ford to reverse course on his decision to prorogue the legislature and to use all the available tools to avoid another lockdown of businesses and schools.
"I'm asking the Premier: come out of hiding, bring the legislature back. Let's work together to ensure that schools are the last place to close and the first place to open. The time to act is now. Ontarians deserve better. Our children deserve better. And educators deserve a safe workplace."
Schreiner emphasized that the Premier needs to work across party lines and implement a meaningful back-to-school plan.
Ontario Greens are proposing meaningful solutions like properly mandating vaccines for education workers and kids over 12 years old, an all hands on deck approach to improving ventilation in all schools, adequate mental health support, lower class sizes, and much more.
You can see the full Ontario Greens Safe School Plan here.