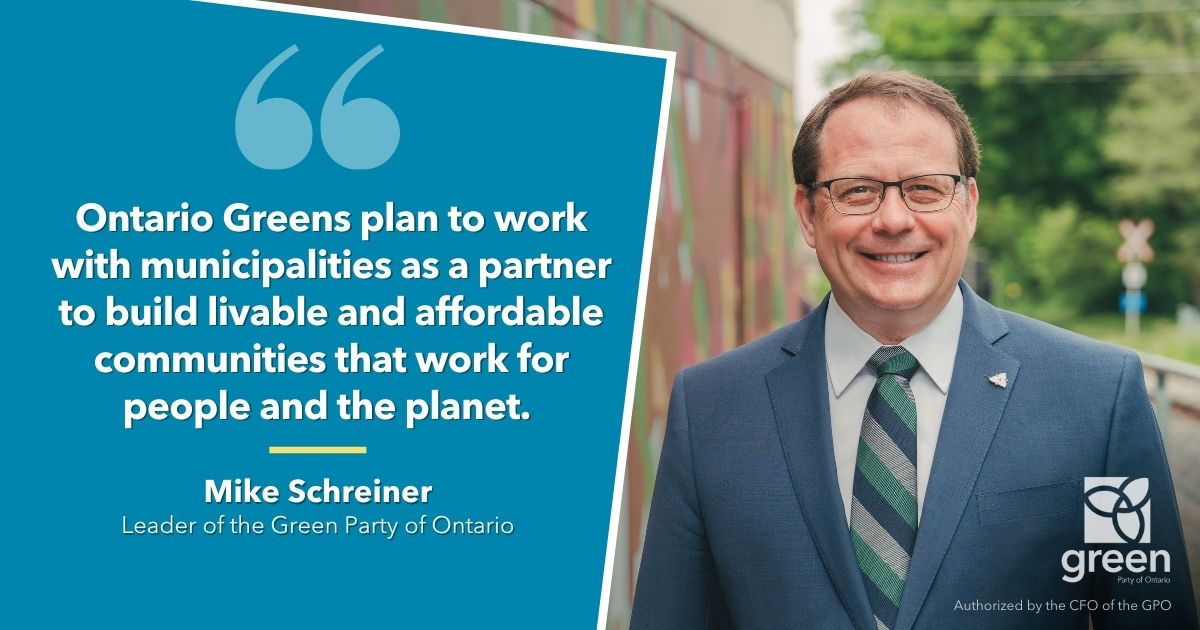 TORONTO — This afternoon, Ontario Green Leader Mike Schreiner delivered his speech at the Association of Municipalities of Ontario (AMO) Conference.
His remarks focused on how the Ontario Greens plan to work with municipalities as a partner to build livable and affordable communities that work for people and the planet. The type of communities described in the Ontario Greens' recently launched housing strategy.
"The province can't keep downloading costs onto municipalities and cutting funding when you need it most," Schreiner said. "It's unsustainable and irresponsible. The province must step up."
Schreiner detailed that the Ontario Greens are committed to provincially funding 50% of all shelter and community housing costs as well as 50% of all transit operating costs.
Schreiner also highlighted the importance of providing municipalities with funding for infrastructure climate adaptation and emphasized the economic potential of the green economy to "kickstart the economy with new careers and good, clean jobs."
"Let's make Ontario the global leader in sustainable mining and EV manufacturing," Schreiner stated. "In green building design and construction, in sustainable farming and forestry, leading the way in bioproducts.
"The bottom line is that climate action is job action."
Schreiner concluded his remarks by asking the municipalities to imagine the type of communities they want and the type of government that can make that a reality.
"Imagine a provincial government, not driven by hyper partisanship or big money donations, but a real commitment to working with you to build the communities you want to lead," Schreiner closed.
"The Ontario Greens are committed to providing the leadership needed to build the world your residents want. So let's get to work on building that world – together."