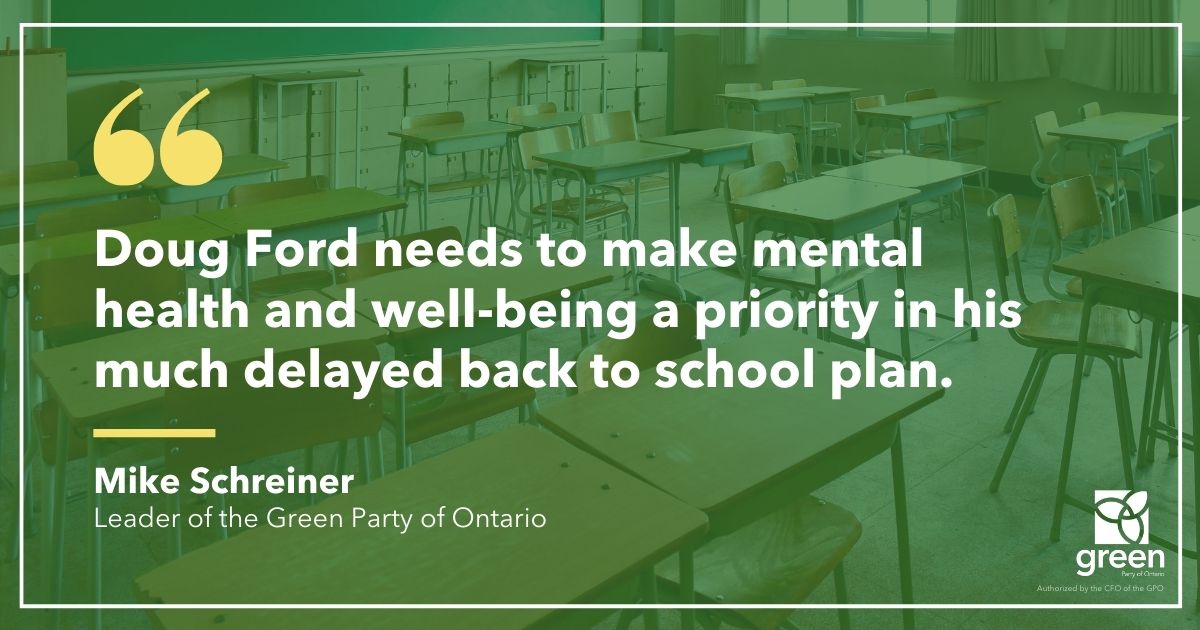 TORONTO — Ontario Greens are calling on Doug Ford to prioritize mental health in his much delayed back to school plan.
"It's crucial that Ford and Lecce address the severe mental health impact the pandemic has had on many kids across Ontario," said GPO Deputy Leader Abhijeet Manay. "That needs to be a cornerstone of the back to school plan."
Ontario Greens are calling on Doug Ford to make students' mental health and well-being a priority as they head back to school by:
Committing to ending plans for hybrid learning and quadmesters that have negative impacts on student mental health and quality of learning
Ensuring a sufficient number of mental health professionals are available at every school
Implementing a province-wide school lunch program to address issues of food insecurity, household economic instability and eating disorders which have been exacerbated by the pandemic
"Students have been through so much with the stress and social isolation of online learning. Sadly rates of depression, anxiety, eating disorders and suicides among youth have all increased," said Laura Campbell, GPO candidate for Dufferin-Caledon.
"Enough with the platitudes. It's time for action."
Last week, GPO Leader Mike Schreiner penned an open letter to Premier Ford detailing the Ontario Greens Safe Schools Plan. You can find the full letter here.