For more information, please contact
John Chenery
Ford should cancel Holland Marsh Highway
May 6, 2021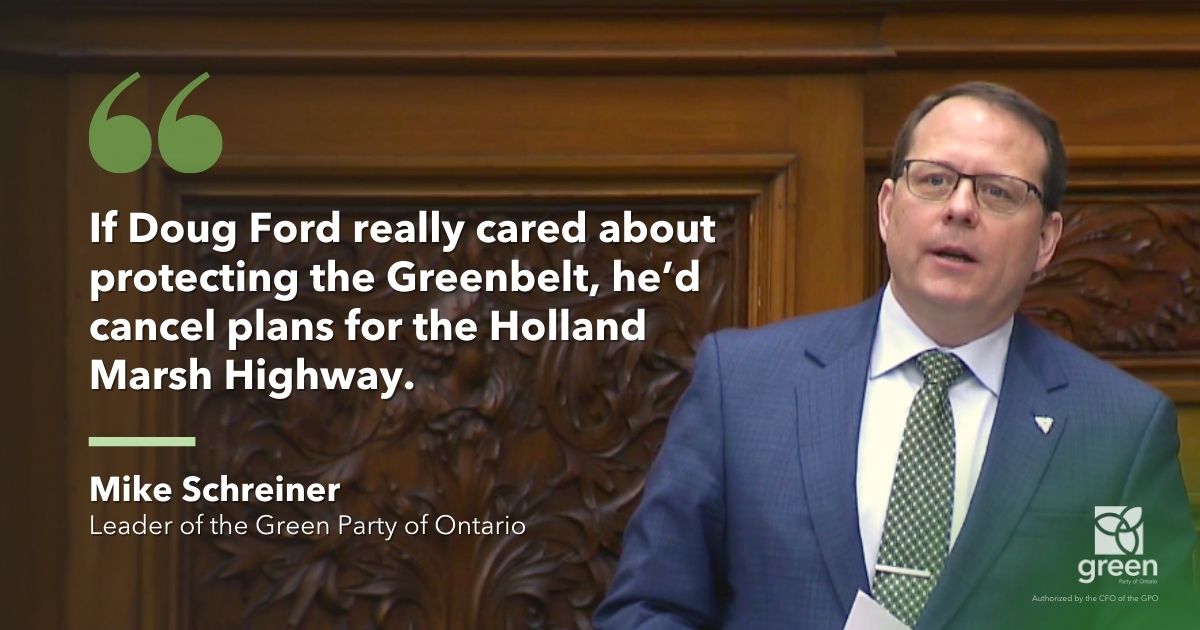 QUEEN'S PARK — Mike Schreiner released the following statement regarding the Holland Marsh Highway:
"If Doug Ford really cared about protecting the Greenbelt, he'd cancel plans for the Holland Marsh Highway.
Under the guise of COVID, Ford has been pushing through his environmentally destructive agenda. And this highway is yet another example.
The Holland Marsh Highway would slice directly through the Greenbelt, damaging 17 hectares of the Holland Marsh and 9.5 hectares of provincially significant wetland.
It would also further threaten the health of the already at-risk Lake Simcoe, and create an additional 87 thousand tonnes of climate pollution per year.
Simply put, it's a bad idea.
But Ford is fast-tracking the highway with reports that construction could begin as early as this fall — all apparently justified by an environmental assessment that was done over two decades ago in 1997.
Ontario needs smart development and transportation infrastructure that respects our natural heritage. We don't need more highways that destroy wetlands, farmland and greenspace, pumping more toxic emissions into the air.
So I'm calling on the Premier to finally make the environment and the Greenbelt a priority by cancelling this ill-advised highway."


Take Action: Tell Doug Ford to conduct a proper Environmental Assessment on the Holland Marsh Highway.
-30-