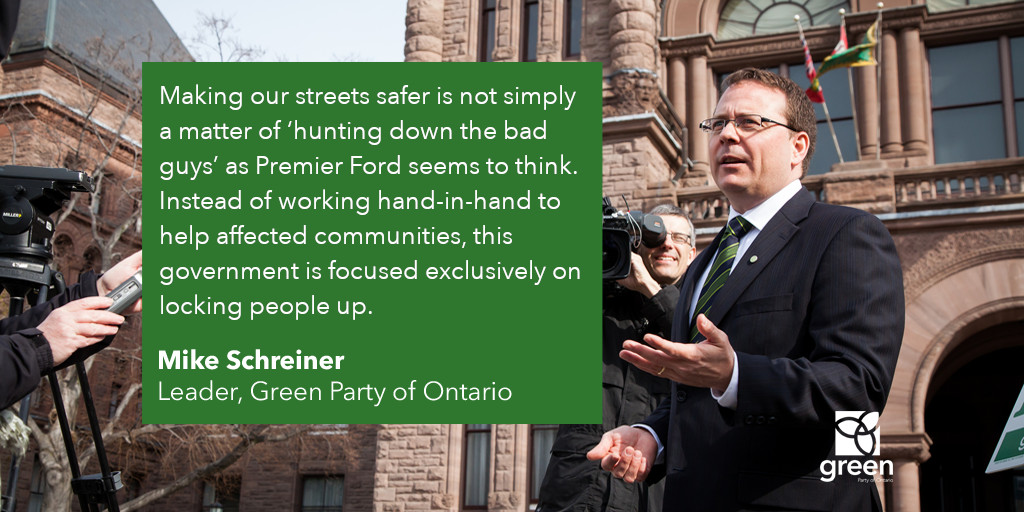 At his press conference today, the Premier spoke of 'gangsters, thugs and bad guys,' showing his one-dimensional understanding of the root causes of violence and poverty.
"Making our streets safer is not simply a matter of 'hunting down the bad guys' as Premier Ford seems to think. Instead of working hand-in-hand to help affected communities, this government is focused on locking people up," said Green Party of Ontario leader, Mike Schreiner.
While the government has announced additional police funding, it has cut planned increases to social assistance rates, scrapped the Basic Income pilot and tossed pennies at the mental health crisis. In his press conference, the premier suggested that police are the only experts we should be listening to on the issue of gun violence.
"We cannot arrest our way out of a deep-rooted problem," said Schreiner.
"Silencing community members, health professionals, anti-racism advocates and other experts will not build healthy and safe communities. The Premier seems determined to ignore the connections that poverty, mental health and systemic racism have to gun violence," he added.
The Green Party is calling on the government to consult experts on the social causes of gun violence and the people with lived experience of gun violence to deliver real solutions to improve communities.