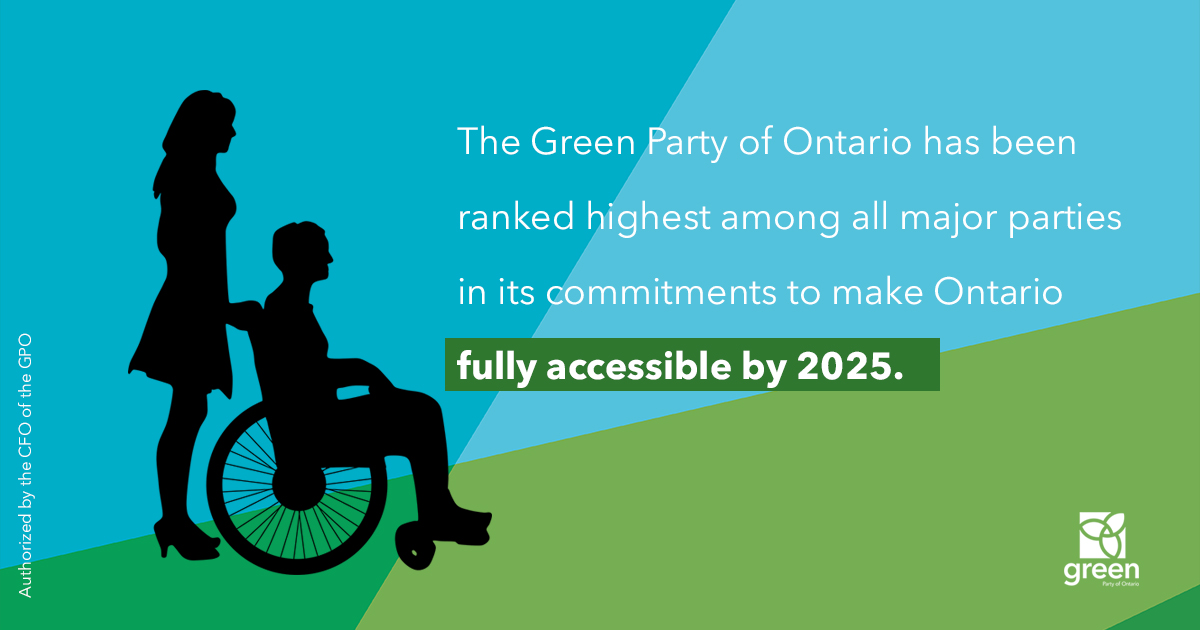 TORONTO, ON — The Green Party of Ontario has been ranked highest among all major parties in its commitments to make Ontario fully accessible by 2025.
"The Green Party gives the broadest commitments on the AODA. It is the only party that states that it supports all the specific commitments that we seek," said the disability advocacy group AODA Alliance in its press release today.
Mike Schreiner was also the only party leader to take part in this evening's debate on a wide range of disability issues. Schreiner outlined the party's plan for building a fully inclusive and barrier free Ontario, underpinned by an historic Basic Income Guarantee for all that will truly tackle poverty.
"Let's cut the red tape for persons with disabilities. A Basic Income Guarantee means an end to the unnecessary paperwork that disrespects people's dignity," said Schreiner.
The party's plan would raise the assistance levels for those in the Ontario Disability Support Program to the low-income cut-off measure within four years.
At the debate, Schreiner also called out the Liberals for housing rules that do little to tackle the crisis that particularly affects marginalized populations.
"Why did the Liberals bring in inclusionary zoning rules if they were going to be so weak? We need to follow international best practice and enforce a minimum of 20% affordable housing units," said Schreiner.
Despite creating the landmark AODA legislation in 2005, the Liberals are not on track to meet their own goals. Shockingly, they also continue to invest in public infrastructure that excludes people with disabilities.
"Transit stations are being built that still not accessible. How can this happen in 2018, knowing everything that we do and with the AODA rules in place? It is completely unacceptable," said Schreiner.
Greens are the only party with a real plan for tackling poverty, increasing affordable housing, and bringing additional resources to Ontarians with disabilities, while being honest with people about how we are going to pay for it. See the fully costed platform at www.gpo.ca/platform