For more information, please contact
Cecilia Stuart
Ontario Greens announce People with Disabilities Support Plan
April 28, 2022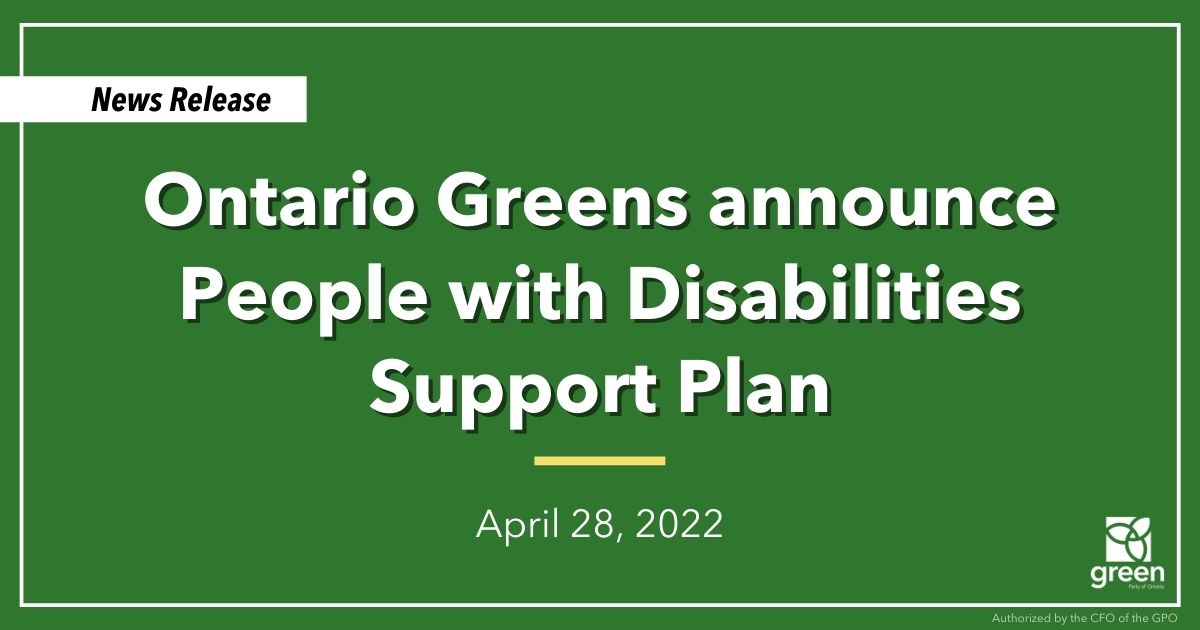 TORONTO — Ontario Greens Leader Mike Schreiner announced his party's People with Disabilities Support Plan this afternoon at a rally alongside the ODSP Action Coalition, Ontario Disability Coalition and Disability Justice Network of Ontario. Under the plan, Ontario Greens will:
Double Ontario Disability Support Program (ODSP) rates
Mandate universal design to ensure that new affordable housing stock is accessible for all and create incentives for retrofitting homes to make them accessible.
Make mental health care affordable and accessible for people with disabilities and support programs and services that take an intersectional approach to care to meet the needs of people with disabilities
Ensure the rapid implementation of the Accessibility for Ontarians with Disabilities Act (AODA) and update its accessibility standards
Increase high-quality homecare options for people with disabilities
"People with disabilities have experienced a disproportionate burden from the pandemic — financially, on their health and on their quality of life. And they are feeling the brunt of the cost of living crisis right now," Schreiner said.
"Yet Doug Ford is forcing people on ODSP to live in legislated poverty. How can the Premier expect someone to live on $1,169 a month? It's ridiculous."
Ontario Greens will continue to lead the way on supporting people with disabilities, while the other parties offer up either no measures or half measures. Doug Ford cut the planned ODSP increase when he took office and stubbornly refuses to increase it. And the NDP's recently released platform notably failed to even mention accessible housing.
"Ontario Greens are committed to building a more accessible and equitable Ontario where people with disabilities can afford to put food on the table, live in a home that is accessible, and access the care they need when they need it."
-30-