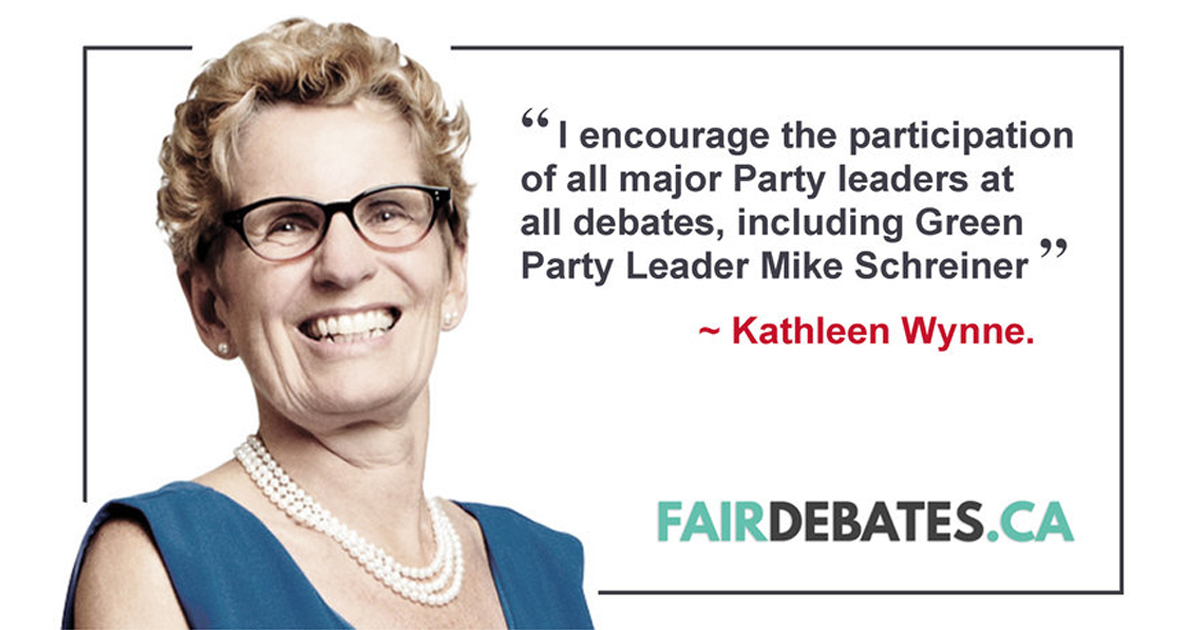 (Image from FairDebates.ca)
QUEEN'S PARK — Mike Schreiner is calling on his political counterparts to stand up for democracy and do the right thing by allowing the Green Party to participate in the televised Leaders debates in the spring election.
"I want to thank Premier Wynne for agreeing that citizens deserve to hear from all four major party leaders in the debates," said Schreiner, who leads the Green Party of Ontario. "I challenge Ms. Horwath and Mr. Ford to stand up for democracy and support fair debates."
The Green Party meets Elections Ontario's requirements for per-vote funding, like the Liberals, Progressive Conservatives and New Democrats.
Yet the arbitrary rules for determining who's in and who's out of the televised debates are threatening to lock the Greens out once again. An undefined media consortium, likely in consultation with the status quo parties at Queen's Park, makes the decision in an undemocratic process behind closed doors.
"How is it that Ontarians provide funding to four parties, but only get to hear from three of them? I look forward to the opportunity to share our ideas and be held accountable by voters before election day," added Schreiner.
Along with Premier Wynne, almost 10,000 people have signed a nonpartisan petition organized by FairDebates.ca calling for a fair and simple rule: that the leader of any political party that receives annual taxpayer funding should be included in the televised debates.
"It's interesting that you have one party leader who is turning down debate invitations and ducking the media, and on the other hand, myself, who is being shut out of the televised debates despite the fact that we receive public funds, run candidates in all ridings, and received almost 5% of the provincial vote in 2014," said Schreiner.
"All four of us need to be there. I'm ready and I am pleased to have Premier Wynne's support. Now I'm asking the two leaders of the opposition for their support for democratic principles and fair debates."