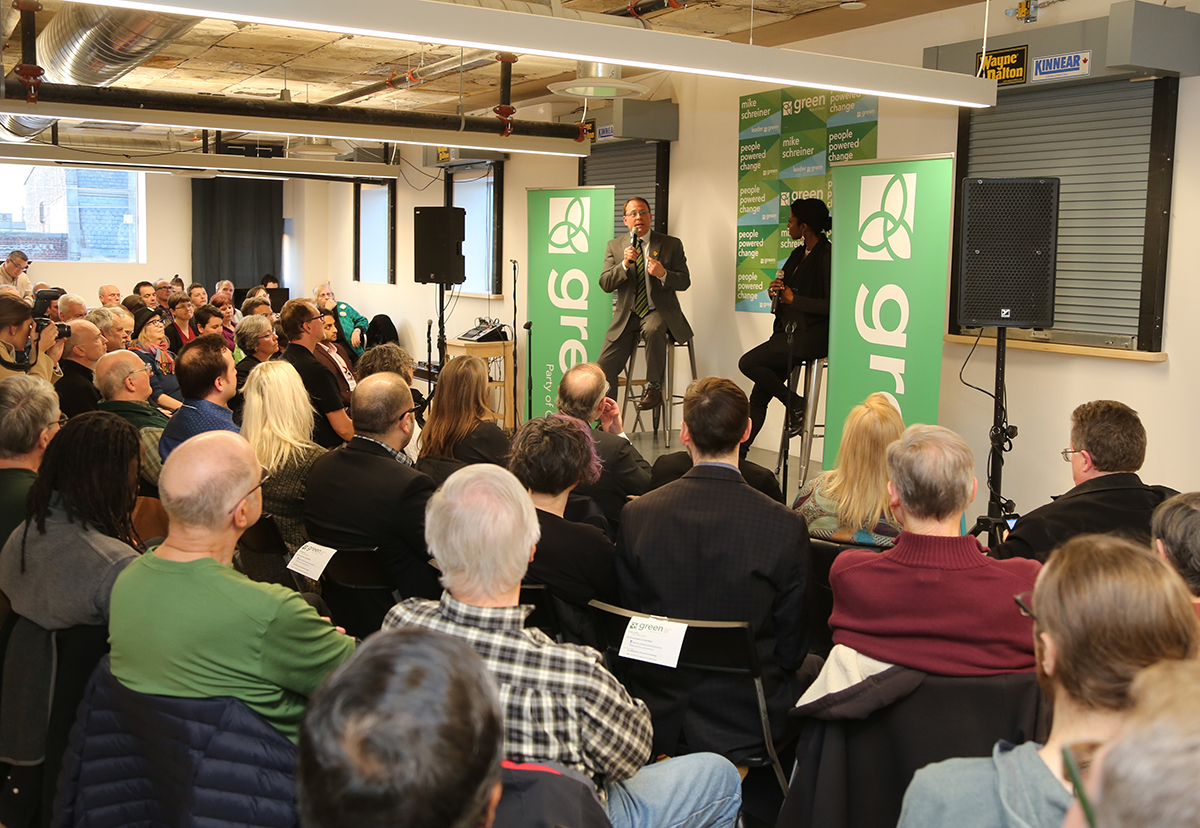 GUELPH, ON — Today, Green Party of Ontario Leader Mike Schreiner embarks on a 20-city tour of the province to share a Green Vision for Ontario, the party's blueprint for People Powered Change. Last night at a packed Town Hall in Guelph, Schreiner outlined solutions for a renewable, sustainable, and equitable Ontario.
"People are hungry for change, but they don't trust the other establishment parties. My message is that there is a better choice for bringing the change you want. Greens will do politics differently in Ontario by putting people first," said Schreiner at the town hall.
The Green Vision focuses on three pillars of Jobs, People and Planet and will be the foundation for the platform as we head towards the June election.
The tour carries on to London and Sarnia today, followed by stops in Windsor, Chatham, St. Catharines, Niagara, Peterborough, Hamilton, Kingston, Ottawa, Sudbury, North Bay and Barrie before winding up in Orangeville on March 29.
Tour events include town halls, meetings with university students and small businesses, roundtable events with civic leaders, and visits to cleantech projects.
At the town hall, Schreiner emphasized that it's time for a strong voice at Queen's Park that can speak truth to power, and Greens are the only party with the political courage to stand up to lobby groups and wealthy corporations with honesty and integrity.
"Politicians need to stop using people's lives as political wedge issues," added Schreiner. "Politics in Ontario is broken – somewhere along the line it stopped being about people. That's the difference the Green Party is making in this election," said Schreiner. "We put people first."
The Green Party is on track to run a full slate of candidates for the June 7 provincial election. The party aims to make a history by electing the first Green MPP in Ontario in 2018, building on the Green wave that has elected seven Greens across the country in recent years.
"Before having a seat at Queen's Park, Greens have led the charge on getting big money out of politics and protecting our food and water. Just imagine what we will do for you with seats inside Queen's Park. Let's leap into the future now!" said Schreiner to the crowd in Guelph.
Learn more about the Green Vision at www.gpo.ca/vision.
To watch the full video of the Guelph Town Hall, click here.
—
Tour Schedule
To follow Mike's travels across Ontario, visit: https://gpo.ca/leaders-tour/
March 20: Guelph
March 21: London, Sarnia
March 22: Windsor, Chatham-Kent, Kitchener-Waterloo
March 23: Hamilton, St. Catharines, Niagara Falls
March 24: Guelph, Peterborough
March 25: Brighton, Kingston
March 26: Perth, Ottawa
March 27: North Bay, Sudbury
March 28: Huntsville, Barrie
March 29: Orangeville