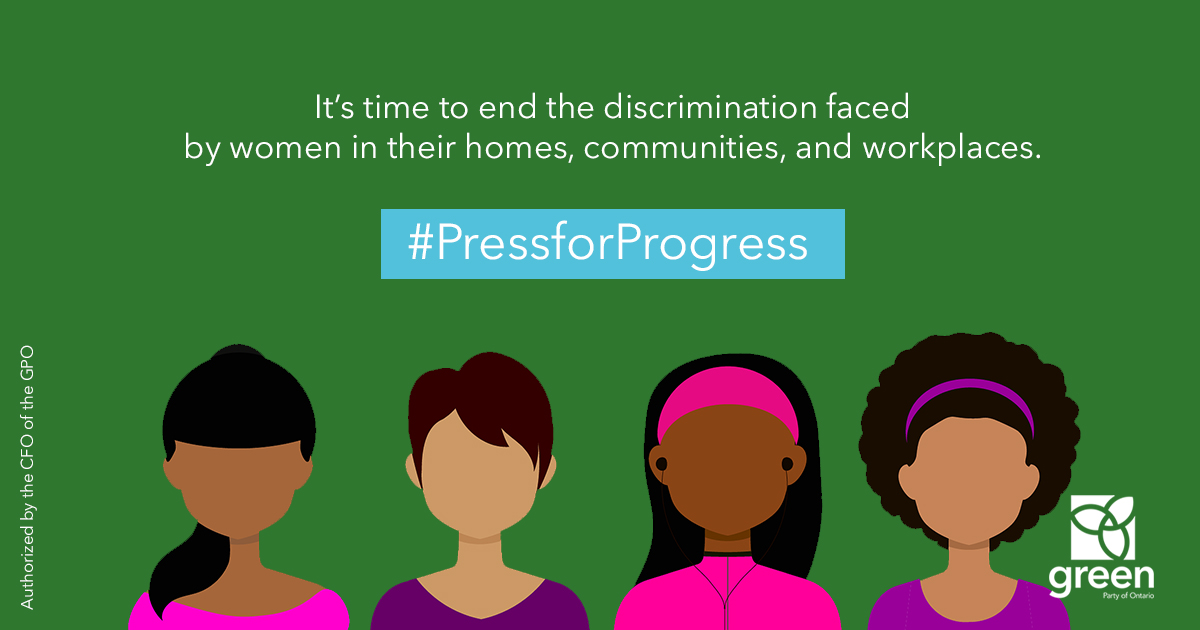 QUEEN'S PARK – Today, on International Women's Day, the Green Party of Ontario adds its voice to the growing global movement for women's equality. In the spirit of this year's theme, #PressforProgress, we call on political leaders at Queen's Park to take bold steps to end the discrimination faced by women in their homes, communities, and workplaces.
The last year has been a watershed time in the fight for women's empowerment, with the #MeToo movement raising awareness about the systemic and pervasive extent to which women continue to be harrassed in our societies. "#MeToo has unearthed problems that we have neglected for far too long. It is up to all of us to harness this moment and do the real work of making all spaces safe, inclusive, and equitable," said Green Party of Ontario Leader, Mike Schreiner.
Governments must demonstrate leadership to combat the forces that continue to disempower women. At our 2018 convention in Guelph, the Green Party of Ontario passed a clear and direct motion to combat sexism both within and outside the party. Mike Schreiner issued a call to action at the convention, "As a Party we are committed to running a gender balanced slate of candidates across Ontario." Ontario also needs strong legislation to shrink the inexcusable wage gap that exists in our province, as well as additional funding in areas such as reproductive health and women's shelters.
"There is perhaps no greater social justice issue right now than the fight for gender equity," said Schreiner. "Our party is committed to amplifying the voices of women and pressing for progress on these critical issues in the upcoming provincial election."