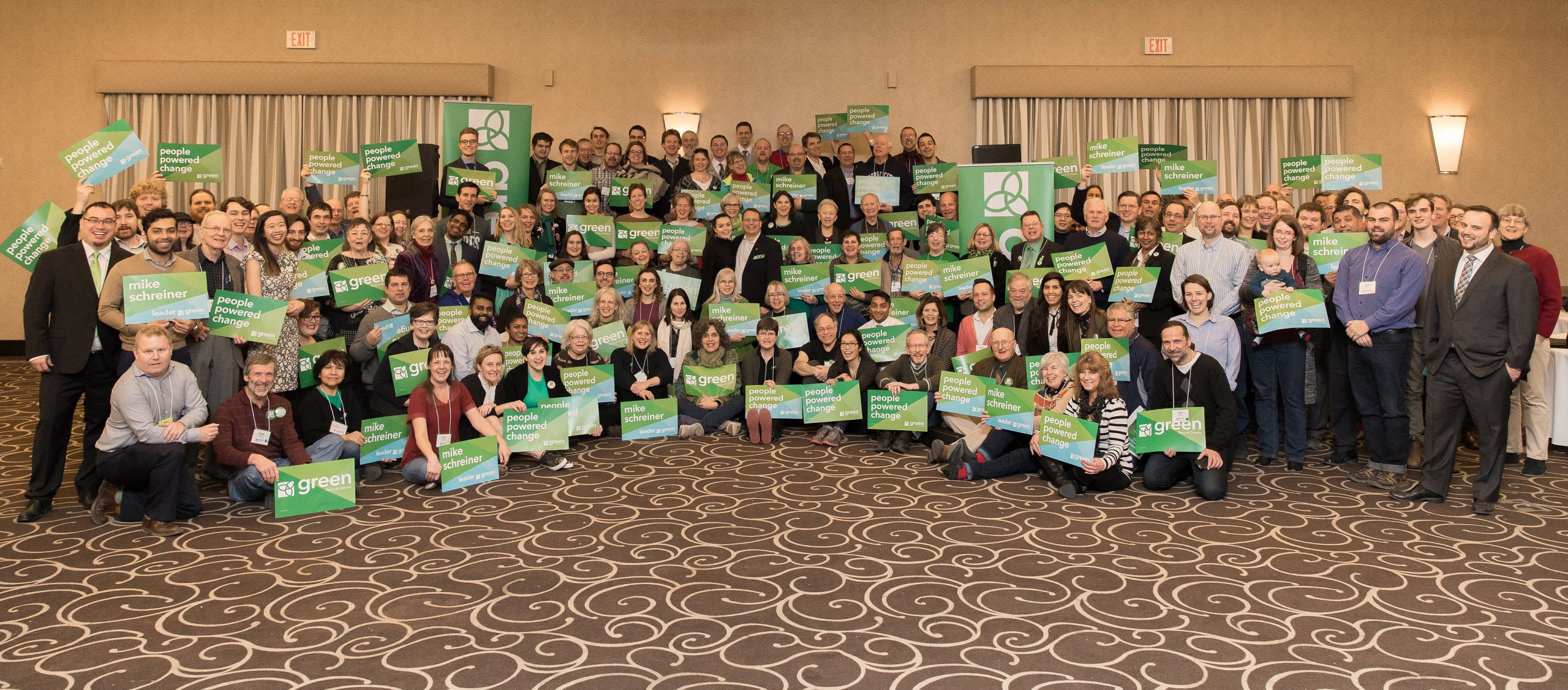 The Green Party of Ontario wrapped up a sold out convention in Leader Mike Schreiner's home riding of Guelph.
After a record breaking year of fundraising and new member signups, the Party faithful are energized. Close to 200 Green delegates flocked to a downtown hotel to talk policy, attend campaign and candidate bootcamps and hear from elected Greens from B.C. to P.E.I. to Ontario. The GPO is headed for a full and gender balanced slate in June's provincial election.
Electoral reform champion Dave Meslin of FairDebates.ca brought the crowd to its feet with his demand that all four provincially funded Ontario Party's must have a place in the upcoming debates.
On Saturday, a packed room heard Leader Mike Schreiner deliver his speech to a wildly enthusiastic audience.
Excerpts from Mike Schreiner's Speech at the 2018 Green Party Convention:
"We know that the political status quo needs to change.
It's kind of like asking Big Beer to make craft beer. It's not going to happen. Or it's not going to happen very well.
The only way to change the status quo in Queen's Park is to elect a new party, with a new vision and a new way of doing politics. "
---
"Ontario needs people powered change.
Change by the kind of people in this room.
We don't have deep pocketed friends who send in well paid lobbyists to gain influence.
We have you.
We don't have deals we can make or favours to return.
We have you.
As I look at the people in this room, they are people who put service before self.
And I believe that makes us the richest Party in Ontario."
---
"I'm asking people all across Ontario to join us in this fight.
To fight against the Big Energy lobby that wants to triple electricity prices to rebuild outdated nuclear plants.
To fight for green middle class jobs built on the foundation of the 295,000 clean energy jobs, paying an average salary of $92,000 in Canada today.
To fight for 100% renewable energy future in our children's lifetime.
To stand up for workers who deserve a living wage and local businesses who deserve fair taxes.
To fight for small businesses against the two parties of big business and the one party of no business at Queen's Park.
To cut red tape for the disadvantaged in our society and to stop dragging our feet when it comes to delivering a Universal Basic Income for all.
To fight against systemic racism and sexism in this province."
---
"I refuse to make intense ice storms and hurricanes, floods and droughts, fires and polar vortexes the new normal for my children. I refuse to let that happen without putting up a fight.
It won't be easy. Kermit was right. It's not easy being Green.
But I wouldn't have it any other way—
Never has the time been so right to amplify the rising voices of the new generation who want to do politics differently. Not only to celebrate and defend what Ontario has, but to build a future of what Ontario can be."
The full transcript can be found here.
Press coverage can be seen below. You can also see more updates on social media, using the hashtag #GPO2018 and #LetsMakeHistory.