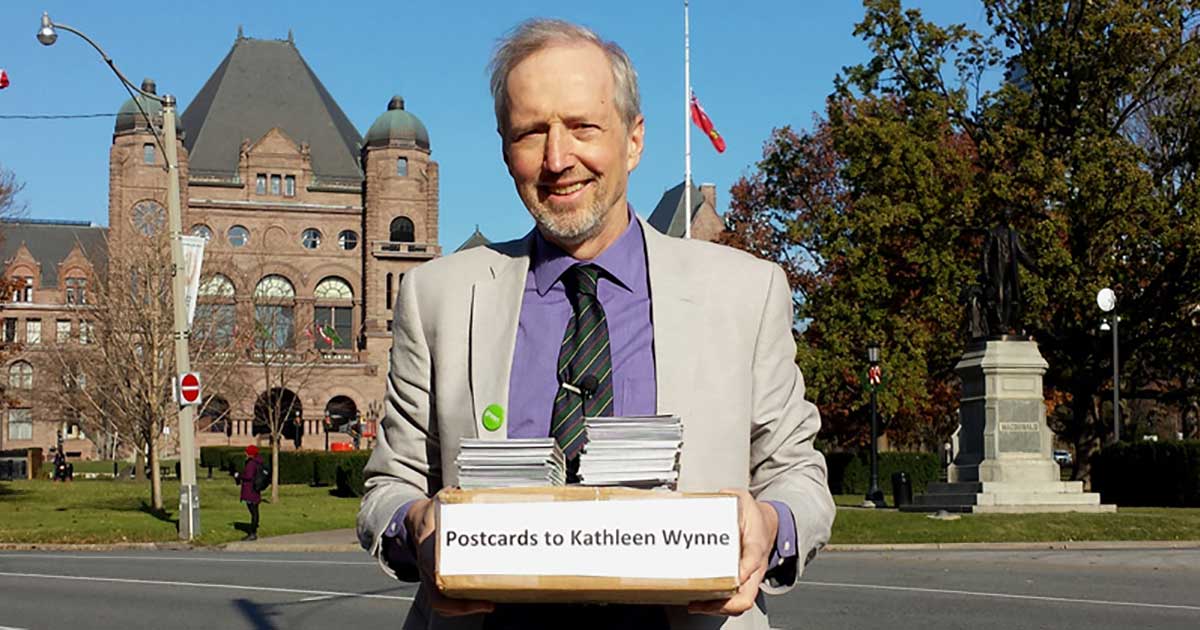 Toronto – Green Party of Ontario candidate (Toronto- University-Rosedale) candidate Tim Grant has delivered over 1000 postcards to Premier Kathleen Wynne this morning, demanding that her government come clean on ways to properly fund transit in Toronto.
"Over the past months, we've been knocking on doors to talk to people about transit," said Grant. "We've found people are open to having an honest conversation about the cost to build transit, and ways to pay for it."
"The GPO believes it was wrong for Wynne to turn down Toronto Mayor John Tory's request for road tolls to finance transit earlier this year — despite previously indicating she was open to cities coming up with ways to generate revenue."
"People are sick of politicians pretending that magic money and fairy dust will fund transit," said Grant. "It's time for Wynne and the Liberals to listen to the people of Toronto."
Over 1000 people have signed postcards to Wynne, asking her to allow the City of Toronto to collect tolls on the Don Valley Parkway and Gardiner Expressway to fund transit, or to  have the province take over the cost of maintaining those two highways.
The Green Party supports road pricing to fight gridlock, which costs over $11 billion per year in Toronto alone in lost productivity.
Road tolls provide more than just a funding tool to build transit. Road pricing also reduces congestion and creates incentives to carpool or take transit. Pricing is essential to allocating scarce road resources efficiently and affordably, helping people move around and  businesses be able to deliver their products on time.
It's time for Queen's Park politicians to have an honest conversation about removing the roadblocks that get in the way of improving transportation in this province.