For more information, please contact
John Chenery
Ontario Greens call on Ford government to adequately fund municipalities
January 23, 2023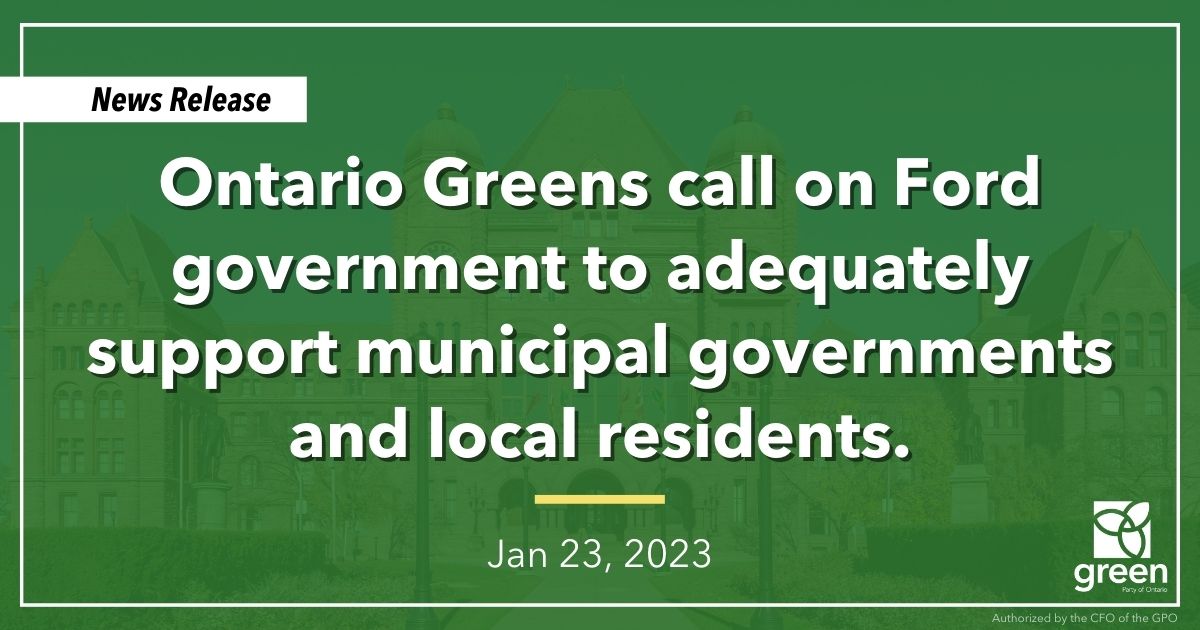 TORONTO — On day two of the Rural Ontario Municipal Association annual conference, Ontario Greens leader Mike Schreiner released the following statement calling on the Ford Government to immediately provide adequate funding to municipalities.
"Municipalities are facing immense fiscal pressure, in large part due to successive provincial governments downloading costs onto their already strained budgets.
And now municipalities are on the front lines dealing with social issues like the drug poisoning, mental health, and homelessness crises.
Their communities are suffering, their downtowns face major challenges, and their under-resourced frontline social and healthcare workers are struggling to meet the needs of residents.
Municipalities are forced to address the costs of these social issues that, in large part, stem from the provincial government systemically underfunding mental health services, public healthcare, and critical municipal infrastructure like affordable housing and transit.
As a result, municipalities must divert much-needed funding away from community centres, libraries, climate initiatives like municipal building retrofits and other services that would benefit their communities.
I've heard it loud and clear from municipal leaders across this province: the Ontario government must shoulder more of the burden of these social costs for our communities to thrive.
The Ontario Greens once again call on the Ford government to adequately support municipal governments and local residents by:
Granting municipalities autonomy to implement revenue tools to fund critical infrastructure needs and services. This includes solutions like congestion charges and parking levies.
Providing immediate financial support for municipalities to bolster local infrastructure:

uploading 50 per cent of shelter and community housing costs to the provincial government while allowing municipalities to maintain management control.
restoring the 50 per cent provincial cost-share for transit operations and supporting electrification plans for all municipal transit systems.
Creating a dedicated $2 billion a year Climate Adaptation Fund for municipalities.

Investing in affordable housing including but not limited to:

renovating 260,000 existing community housing units and investing in 100,000 new units
creating 60,000 permanent supportive housing units
increasing funding for women's shelters and transitional housing for families in crisis

Immediately providing at least $6.6B over four years for publicly funded mental health and addiction services including:

expanded access under OHIP, and
an immediate base budget increase of eight per cent to the community mental health sector."
-30-
Media contact:
John Chenery
media@gpo.ca
437-929-1792
-30-