For more information, please contact
Cecilia Stuart
Once again, Ford government is failing children with autism
December 22, 2022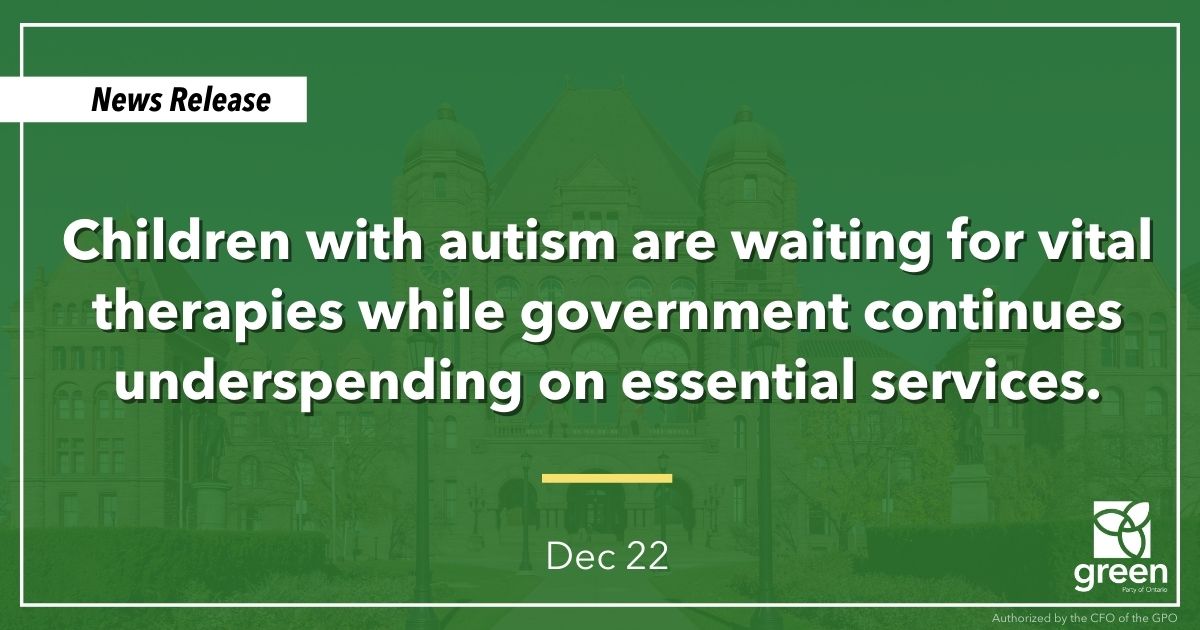 TORONTO — Ontario Greens Leader and MPP for Guelph, Mike Schreiner, released the following statement in response to a report that the Ford government has failed to meet its target to fund therapies for 8,000 children with autism by the end of fall.
"It is shameful that children with autism are waiting to receive vital therapies while the Ford government continues its pattern of underspending on essential services.
The government's early attempts to revamp the Ontario Autism Program were an unmitigated disaster and now their attempts to clean up the mess they made are failing as well.
Parents of children with autism are reporting delays of many months as they wait to find out if their child's therapies will be funded.
Meanwhile, the Financial Accountability Office reports that the government spent $3.5 billion less than expected in the first six months of 2022-23, including $244 million underspent by the Ministry of Children, Community and Social Services, which is responsible for the Autism Program.
It is unconscionable that this government continues to pinch pennies while parents of children with autism face financial hardship to ensure that their loved ones receive the therapies they need.
I call on the Minister of Children, Community and Social Services to provide a status report on progress towards the government's target of 8,000 children receiving funding for autism therapies by the end of fall and take immediate action to support children with autism.
The government must continue to consult with experts and parents to develop an effective autism program that provides:
Funding based on a child's need;
Funding that does not discriminate based on age or income;
Funding for service providers and organizations to ensure services are available for families;
Funding for the education sector to provide supports for autistic children attending school.
Supports for adults with autism and developmental disabilities."
–30–
Media Contact:
John Chenery
johnchenery@gpo.ca
647-213-2060
-30-