For more information, please contact
Cecilia Stuart
Ford betrays all Ontarians by giving away Duffins Rouge farmland to speculators
December 6, 2022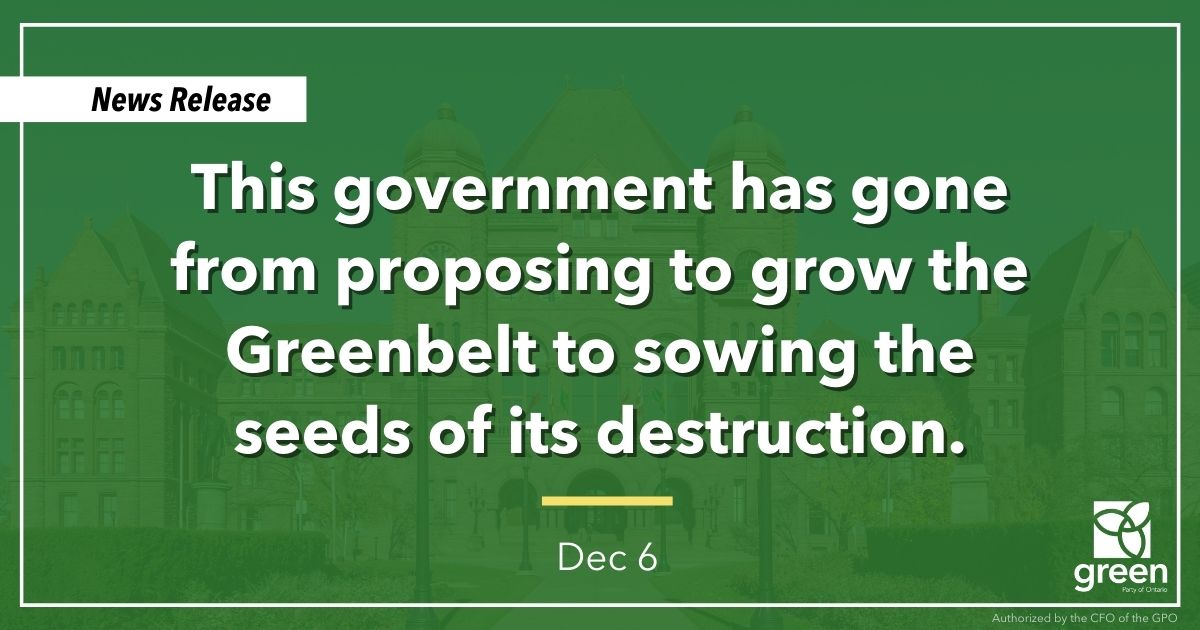 QUEEN'S PARK — Ontario Greens leader and Guelph MPP, Mike Schreiner, released the following statement as the legislature prepares to vote on Bill 39, Better Municipal Governance Act.
"Today, I stood with representatives of the National Farmers' Union-Ontario and the Ontario Farmland Trust to defend farmland protection and to call out the Ford government's destructive sprawl agenda.
By including a provision in Bill 39 to remove protections for the Duffins Rouge Agricultural Preserve, Doug Ford is gift-wrapping a $2 billion Christmas present to PC-friendly land speculators. It is a blatant betrayal of the public trust.
Twenty years ago, Ontarians invested hundreds of millions of dollars to protect these lands and now Ford is handing over this precious public asset without a second thought.
Worse still, we now learn that removing this land from the Greenbelt not only contravenes an agreement with the federal government about consultation on boundary changes but also breaks a verbal agreement to transfer some of the preserve land to federal jurisdiction.
Across Ontario, we are losing 319 acres of farmland – the equivalent of a family farm – every single day due to development. The Ford government's reckless sprawl agenda – codified in Bills 23 and 39 and in plans to build Highway 413 and the Bradford Bypass – will push that number to horrifying levels.
As Martin Straathof, executive director of the Ontario Farmland Trust, said today: 'Agriculture is a system of food production that is complex and interconnected. The fragmentation that we can expect from passing Bill 39 will negatively impact the agriculture in the region, and beyond.
'That is why something like the Greenbelt was created in the first place. That is why these lands have so many layers of protection. That is why the Greenbelt needs to be expanded and why trading land out for new land 100 kilometers away isn't good enough. This isn't the intention of a Greenbelt and this isn't how agricultural systems work.'
Sunil Puri, of the National Farmers' Union, agreed: 'This government has gone from proposing to grow the Greenbelt to sowing the seeds of its destruction. There is no growing Ontario without permanent protection for farmland in the province.'
Martin and Sunil know agriculture and they are convinced that our food security and the province's vital farm economy are threatened by the Ford government's destructive and regressive legislation.
I call on Premier Ford to listen to farmers and also to the thousands of citizens across Ontario who are taking to the streets almost daily demanding that he keep his promise to keep his hands off the Greenbelt."
-30-
Media contact:
John Chenery
johnchenery@gpo.ca
437-929-1792
-30-