For more information, please contact
Cecilia Stuart
Ford must stop counting pennies and start caring about people
November 29, 2022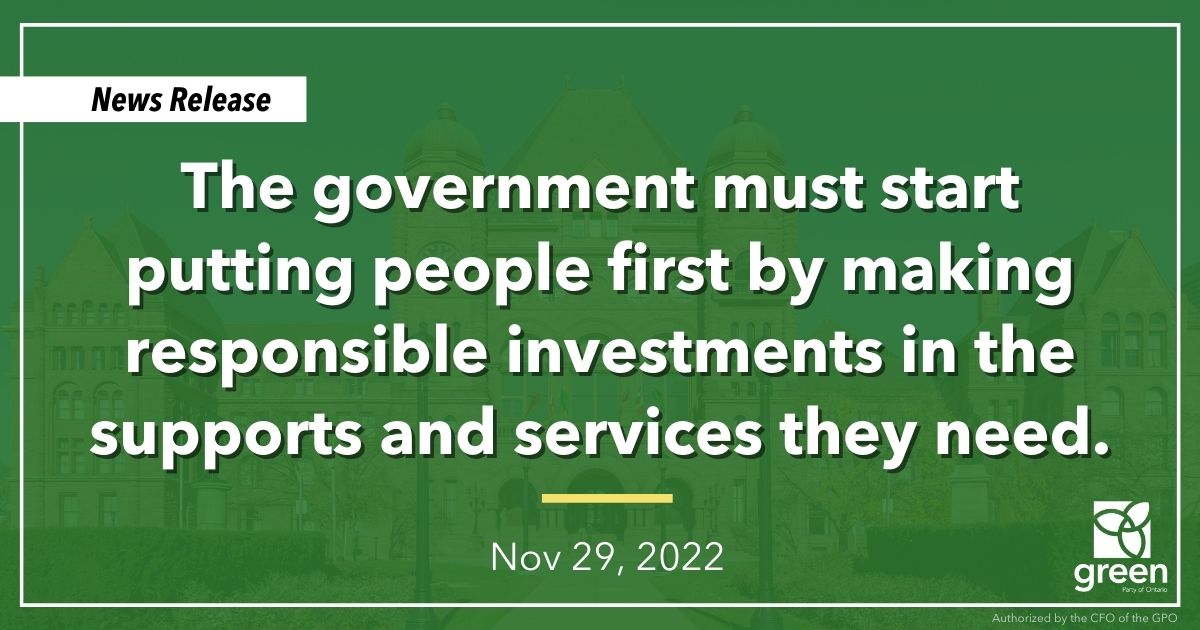 QUEEN'S PARK — Ontario Greens leader and MPP for Guelph, Mike Schreiner, released the following statement in response to the Financial Accountability Office's Expenditure Monitor report for the first half of 2022-23.
"Today's FAO report illustrates once again how Doug Ford would rather cling to his austerity agenda than help people in need.
The report shows that the government spent $3.5 billion less than planned in the first two quarters, including an $859 million healthcare spending shortfall.
How this can happen at a time when our healthcare system teeters on the brink of total collapse – when children are being transported hundreds of kilometres for urgent surgery because pediatric surgical wards are overflowing – is a complete neglect of duty.
Meanwhile, the government maintains a massive $4.2 billion balance in its 'contingency fund.'
Any responsible government would flow this unallocated money immediately to healthcare and education – hiring more nurses and frontline healthcare workers as well as early childhood educators, educational assistants, and secretarial and custodial staff to ensure that students have a successful learning environment.
Once again, I call on Premier Ford to repeal Bill 124 that unfairly suppresses the wages of nurses and frontline healthcare workers and to make urgent investments in healthcare and education.
The government must start putting people first by making responsible investments in the supports and services they need."
-30-
Media contact:
Mehreen Shahid
Press Secretary
mehreenshahid@gpo.ca
437-929-1792
-30-