For more information, please contact
Cecilia Stuart
Ford government's stubbornness is driving healthcare to the brink of collapse
November 24, 2022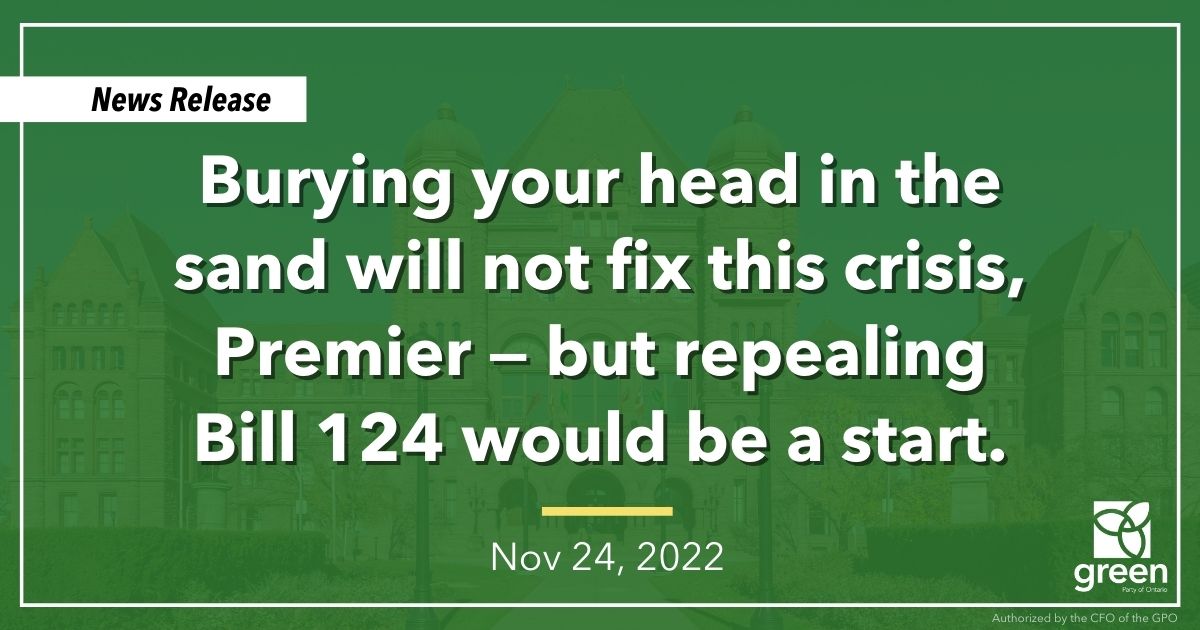 QUEEN'S PARK — Ontario Greens leader and Guelph MPP, Mike Schreiner, released the following statement about an SOS call from five of Ontario's biggest healthcare unions."Today, five healthcare workers' unions came together to make an emergency appeal to the government to save our crumbling healthcare system. If this isn't the wake up call Ford needs, I'm not sure what is.
Burying your head in the sand will not fix this crisis, Premier — but repealing Bill 124 would be a start.
This shameful piece of legislation created a staffing crisis by over working and under paying frontline healthcare workers for years, driving them to leave the profession altogether feeling burnt out and disrespected.
The healthcare unions highlighted that our hospitals need 47,000 staff immediately, just to deal with turnover and the care needs of an ageing and growing population.
Instead of repealing Bill 124 and doing whatever more to bring more healthcare workers online, Ford's Health Minister is misleading Ontarians into thinking family doctors working more hours will fix the issue.
Doctors in family practice are already overworked – just like staff in hospitals and long-term care facilities. And even if they had the capacity, it wouldn't help the 1.8 million Ontarians who don't have a family physician.
I stand with Ontario's healthcare workers in their calls to the Premier and ask him to immediately:
repeal Bill 124,
provide appropriate incentives to current workers but also to those that took early retirement to encourage their return to work,
hire new hospital support staff,
fast track the integration of internationally trained healthcare professionals into Ontario's healthcare system, and
explicitly commit to ensuring our healthcare system will remain public."
-30-
Media contact:
Mehreen Shahid
Press Secretary
mehreenshahid@gpo.ca
437-929-1792
-30-