For more information, please contact
Cecilia Stuart
Ford punishing elders for his government's healthcare failures
November 21, 2022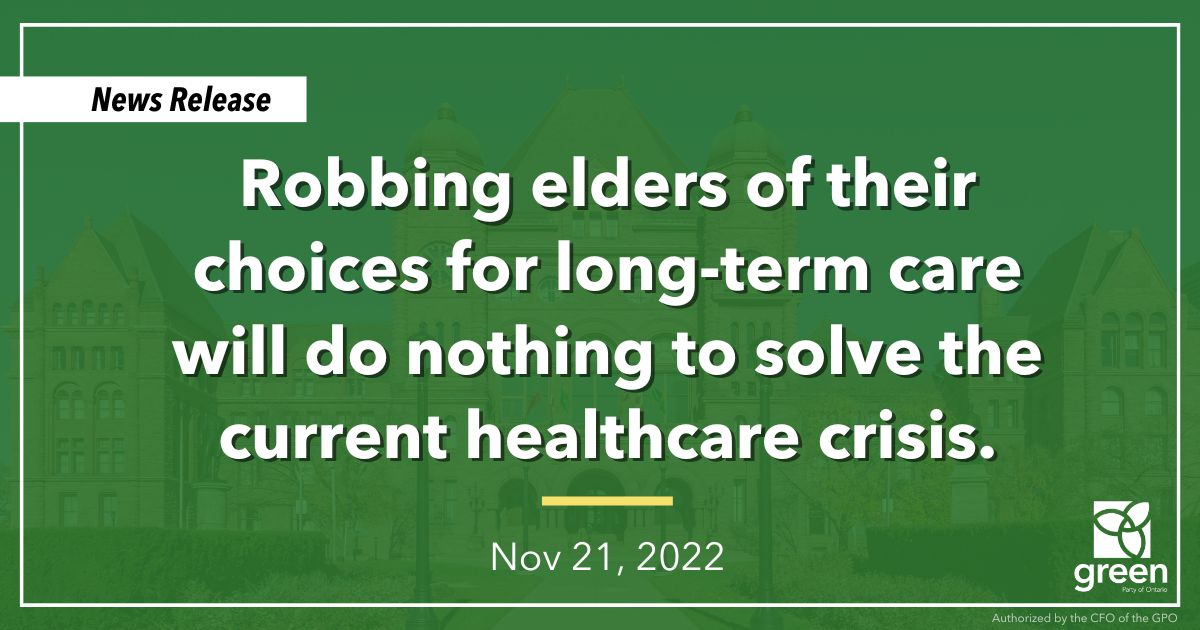 QUEEN'S PARK — Ontario Greens leader and MPP for Guelph, Mike Schreiner released the following statement as regulations under Bill 7 - More Beds, Better Care Act come into effect.
"Robbing elders of their choices for long-term care – and charging them $400 a day if they don't comply – will do nothing to solve the current healthcare crisis.
Even if this heartless legislation frees up a few hospital beds, the staffing crisis caused by Ford's wage-suppressing Bill 124 will continue.
Healthcare experts and seniors' advocates have been harshly critical of Bill 7, which coerces elders to move from hospitals to long-term care homes not of their choosing and far from families in many cases.
In fact, this can only make the staffing shortage worse, as we know that family and friends play a vital role in providing secondary care to their loved ones.
And what's more, the bill is adding to the Ford government's ever-growing list of expensive lawsuits.
Bill 7 is a cruel and short-sighted move that does nothing to address the systemic issues facing our healthcare system.
Once again, I call on the government to halt the exodus of nurses and other frontline staff from our hospitals by repealing Bill 124 and investing in the people who care for our loved ones."
-30-
Media contact:
Mehreen Shahid
Press Secretary
mehreenshahid@gpo.ca
437-929-1792
-30-