For more information, please contact
Cecilia Stuart
Greens proud to co-sponsor bill shielding human trafficking survivors from impacts of coerced debts
November 17, 2022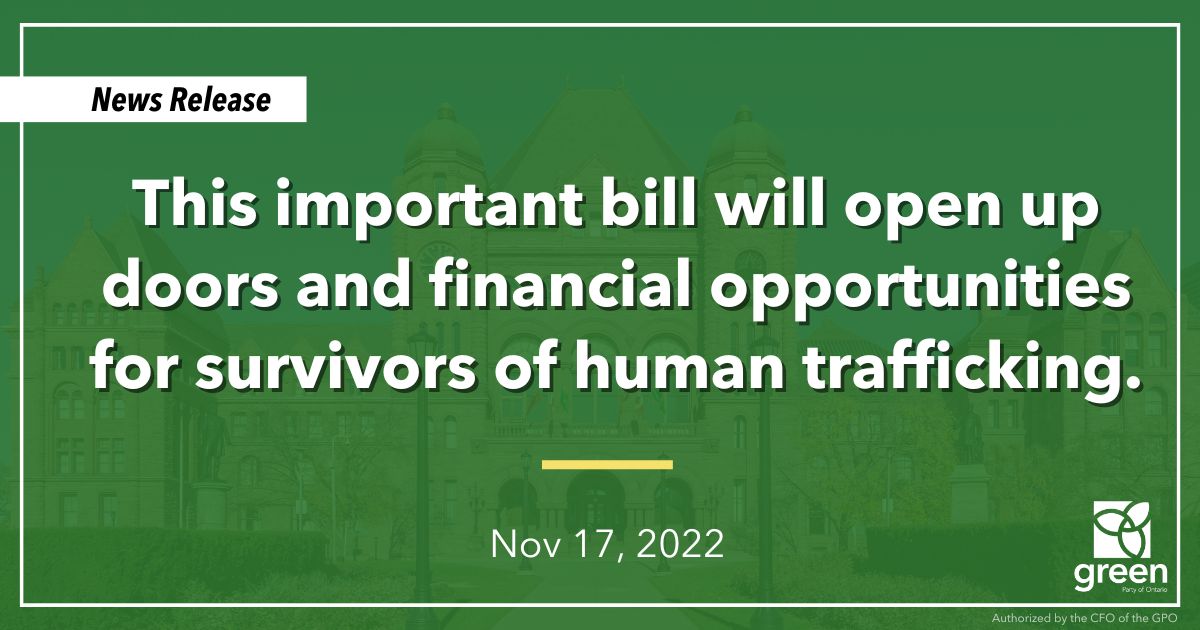 TORONTO — Ontario Greens leader and MPP for Guelph, Mike Schreiner, released the following statement as co-signatory to Bill 41 - Protection from Coerced Debts Incurred in relation to Human Trafficking Act, 2022.
"We can all agree that people deserve to move forward in life without having the past haunt them," said Schreiner.
"This important bill will open up doors and financial opportunities for survivors of human trafficking, enabling them to close a horrible chapter in their lives and move on to thrive in life."
The bill, which was initiated by Lucille Collard, MPP for Ottawa-Vanier, if passed, would compel financial institutions to forgive coerced debts and would forbid consumer reporting agencies from publishing unfavourable information.
"Even though the measures in this bill will have a far-reaching impact for survivors of human trafficking, there is still more work to be done," said Schreiner. "The non-partisan collaboration behind this bill will be necessary as we continue working on this important issue.
"I thank all those that signed on to move this bill ahead, and I look forward to doing what we can to get it passed quickly."
-30-
Media contact:
Mehreen Shahid
Press Secretary
mehreenshahid@gpo.ca
437-929-1792
-30-