For more information, please contact
Cecilia Stuart
People power pushes Ford to back down on rights-violating Bill 28
November 14, 2022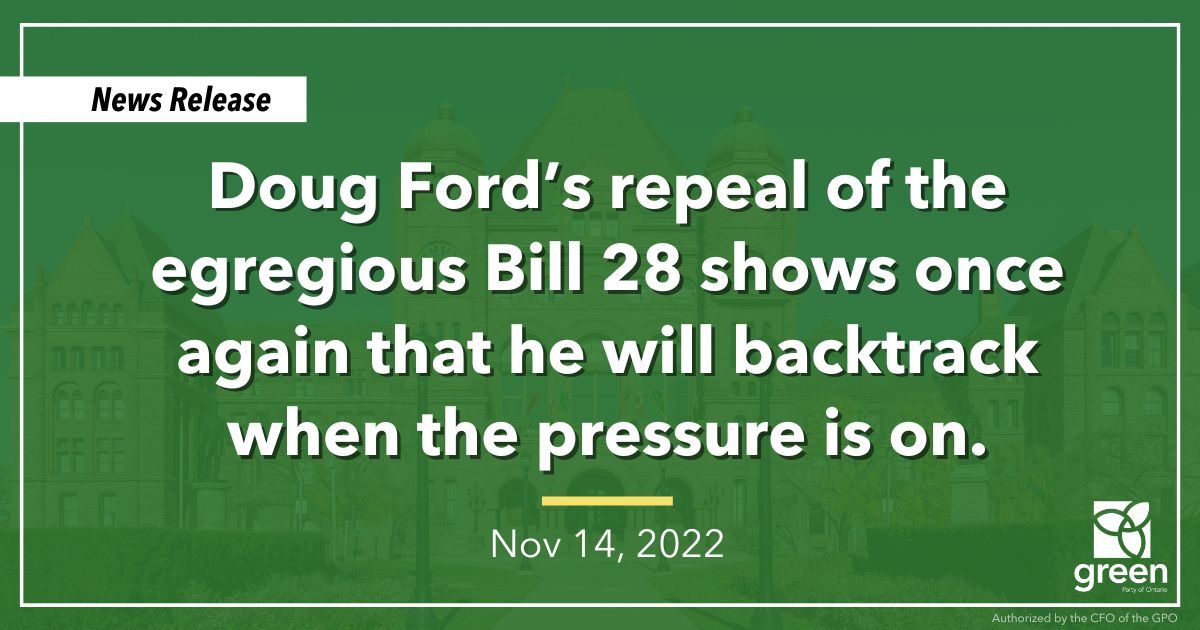 TORONTO — Mike Schreiner, Ontario Greens Leader and MPP for Guelph, made the following statement on the repeal of Bill 28, which imposed a contract on 55,000 education workers and violated their Charter Right to freedom of association:"Doug Ford's repeal of the egregious Bill 28 shows once again that he will backtrack when the pressure is on. It shows that people power works.
Taking a chainsaw to the Charter rights of the province's lowest-paid education workers through the notwithstanding clause was blatantly wrong, and the fact it took strikes, protests and mass backlash for the Premier to admit it raises serious concerns about the future of democratic rights in this province.
But it shows that when we as Ontarians mobilize and speak up against the wrong and dangerous legislation the Ford government pushes through, that they will back down.
And carving off parcels of the Greenbelt as gifts to pro-sprawl developers and wealthy land speculators is the definition of wrong.
It will pave over the farmland that feeds us and the nature that protects us from flooding. It will supercharge expensive, climate-polluting sprawl, and ultimately make the housing crisis worse — not better.
So I call on the Premier: do what you did with Bill 28, realize when you're in the wrong, do the right thing, and walk back this destructive Greenbelt scheme."
–30–
Media Contact:
John Chenery
johnchenery@gpo.ca
647-213-2060
-30-