For more information, please contact
Cecilia Stuart
Crisis, what crisis?: Ford government stokes deficit fears to justify do-nothing fall budget statement
November 14, 2022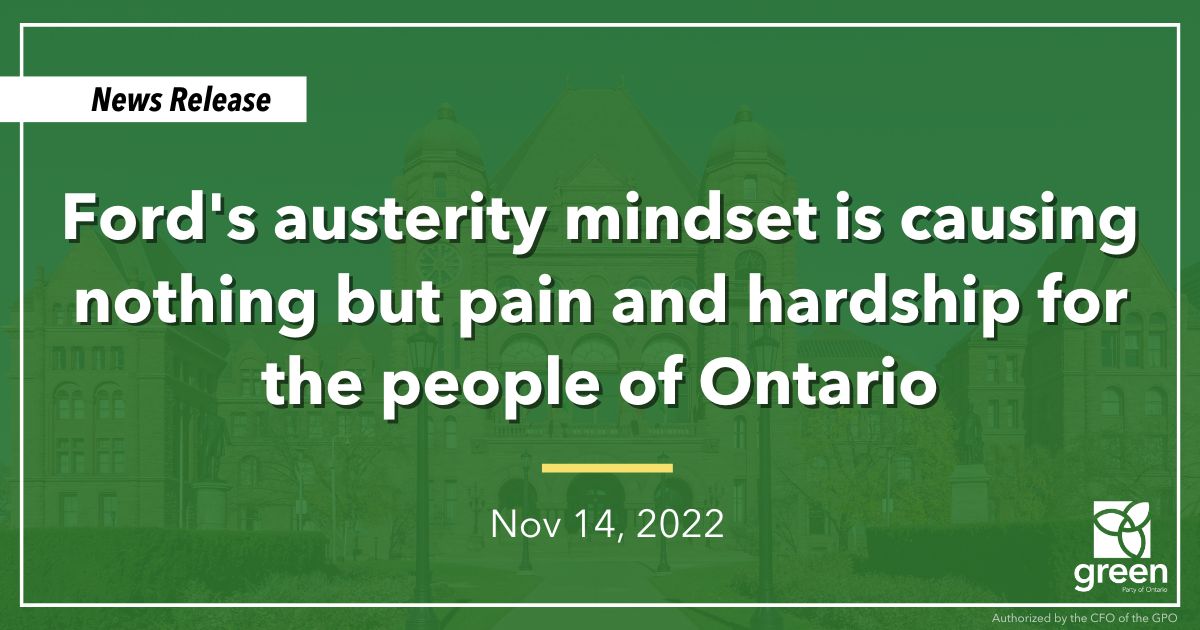 QUEEN'S PARK — Ontario Greens Leader and MPP for Guelph Mike Schreiner issued the following statement in response to the government's Fall Economic Statement tabled in the legislature today.
"Look at the Ford government's Fall Economic Statement and you could conclude that everything's just great in the province of Ontario. The reality is very different for people across the province.
We are facing a severe affordability crisis, yet Ford has failed to offer anything today other than previously announced band-aids that do next to nothing to help people make ends meet.
There's nothing new to address the healthcare system yet it teeters on the brink of total collapse.
Nothing new for education as class sizes go up, the learning gap widens and unresolved contract disputes threaten to close the province's public schools.
No new investments in affordable housing while more and more Ontarians face homelessness and a generation of young people wonder if they'll ever be able to afford their own home.
No increase in ODSP rates, leaving Ontarians living with disabilities to languish in legislated poverty.
And not even a mention of the climate crisis, except the plan to make it worse by encouraging the use of fossil fuels with a one-year extension to the gas tax cut.
Premier Ford and Finance Minister Bethlenfalvy claim that a forecast budget deficit for next year justifies a Fall Economic Statement with no investments in the public services people rely on every day.
But their austerity mindset is causing nothing but pain and hardship for the people of Ontario.
And it goes against a recent report from the Financial Accountability Office, which forecast an economic outlook in stark contrast to the one the government presented today, with six years of surpluses leading to $44 billion in an unallocated 'contingency fund'.
This is unconscionable when pediatric ICUs are over capacity, the education system is starved of funding and people struggle to find an affordable place to live."
-30-
Media contact:
John Chenery
johnchenery@gpo.ca
437-929-1792
-30-