For more information, please contact
John Chenery
About Mike
Mike Schreiner, Leader of the Green Party of Ontario and MPP for Guelph, is the first Green MPP elected to the Ontario Legislature in 2018.
Mike Schreiner statement on Remembrance Day
November 11, 2022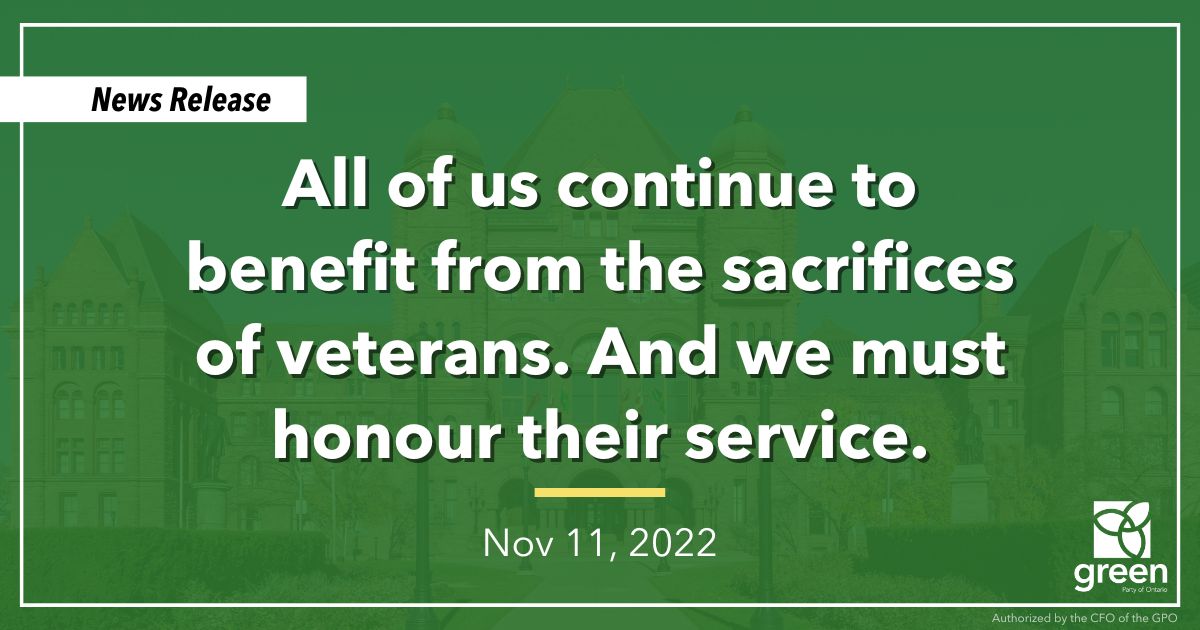 TORONTO — Mike Schreiner released the following statement for Remembrance Day:
"On Remembrance Day, I join all Canadians in expressing our heartfelt gratitude to Canada's veterans and first responders for their service and their sacrifice.
On this day, our thoughts naturally turn to those who made the ultimate sacrifice to protect our freedoms, our democracy and our way of life. We owe all veterans and their families our gratitude and our commitment to care for them.
We must never forget – and I believe that we won't.
Everywhere I go, I see people showing their gratitude and respect by wearing the poppy, reminding me that I have the honour to represent Guelph, birthplace and home of Lieutenant-Colonel John McCrae whose famous poem In Flanders Fields begins with the immortal words:
In Flanders fields the poppies blow
Between the crosses, row on row . . .
It is difficult to imagine the courage of the soldiers who went into those trenches, and of the men and women who came later to serve in World War 2, in Korea, Afghanistan and in numerous peacekeeping missions.
All of us continue to benefit from the sacrifices of veterans. And we must honour their service.
Today and every day – Lest We Forget."
-30-
Media Contact:
John Chenery
johnchenery@gpo.ca
647-213-2060
-30-