For more information, please contact
Cecilia Stuart
While all eyes are on CUPE strike Ford opens up the Greenbelt to development
November 4, 2022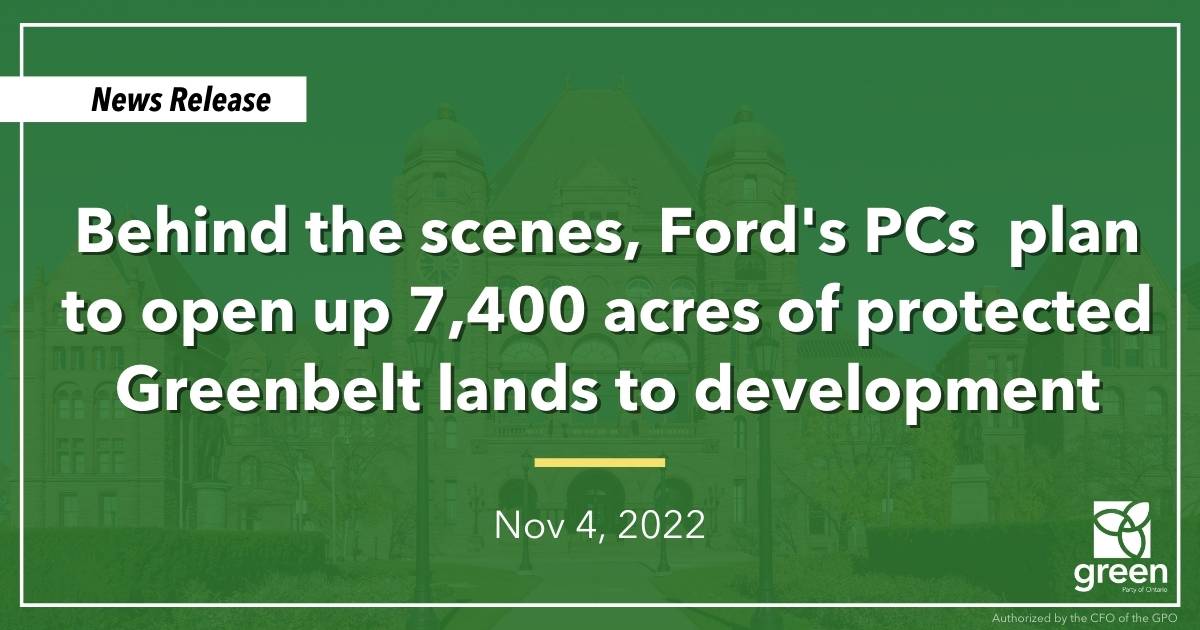 TORONTO — Ontario Greens leader and MPP for Guelph, Mike Schreiner, released the following statement:"Doug Ford's destructive sprawl agenda knows no bounds as he breaks his promise not to touch the Greenbelt.
Ford is now planning to open up 7,400 acres of the protected lands for development.
This puts our farmland at risk as well as people's property as the frequency and severity of extreme weather events escalates.
Behind the scenes, this government has been chipping away at Greenbelt protections for some time by giving the go-ahead to destructive Greenbelt developments like Highway 413.
But now they are openly admitting that keeping the Greenbelt intact is not a priority.
All this after last week's tabling of Bill 23, which guts Conservation Authorities' powers and the province's wetland protection system.
Ford's legacy of environmental destruction gets worse every day. And once these critical environmentally sensitive lands are gone, they are gone forever.
We cannot allow this government to force the false choice between protecting the environment and building the housing we desperately need.
It's time to end expensive sprawl and to permanently protect our remaining farmland, watersheds, and green space for present and future generations.
This is essential for our resiliency to a changing climate and economic prosperity."
-30-
Media contact
John Chenery
johnchenery@gpo.ca
437-929-1792
-30-