For more information, please contact
Cecilia Stuart
Greens will continue to lead the charge at Queen's Park on affordable housing, climate, ODSP, and healthcare, says Schreiner
November 1, 2022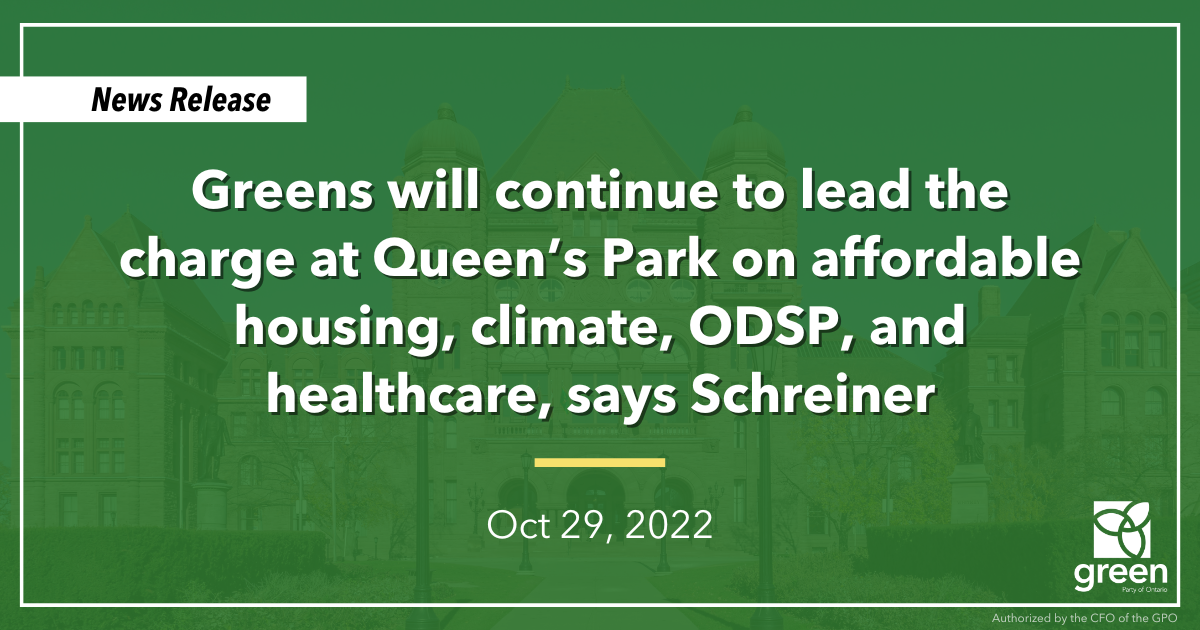 TORONTO — Ontario Greens leader Mike Schreiner delivered the keynote address to the party's annual convention today, challenging members to "engage, organize and mobilize against the worst excesses of the Ford government."
In his first in-person address to members since 2019, Schreiner said that Greens will continue to lead the charge at Queen's Park on the issues that matter most – addressing the affordable housing crisis, doubling social assistance rates, demanding real action on climate change, and pushing for investments in healthcare, education and public services.
"Everywhere you look in Doug Ford's Ontario there seems to be a crisis," said Schreiner. "ERs closing, education workers on the brink of job action, chaos in energy planning, climate pollution going up not down, rents going through the roof and a whole generation wondering if they can afford to own a home.
"We cannot let Doug Ford spend the rest of this term disrespecting nurses and healthcare workers, people on ODSP, and educators," he said.
Schreiner thanked party members for their commitment and hard work leading up and during the 2022 provincial election – "the most impressive and professional campaign the Ontario Greens have ever run."
"I see so many positives when I look back on our campaign this year," he said. "So many reasons to believe that our work is important and very much needed; that we are making a difference and we are making progress.
"And we must keep pushing forward to make sure our province is climate ready – our economy, our healthcare system, our infrastructure, and our communities.
"So that we can maintain our quality of life today and for generations to come."
-30-
Media contact:
Mehreen Shahid
Press Secretary
mehreenshahid@gpo.ca
437-929-1792
-30-