For more information, please contact
Cecilia Stuart
Ford's PCs continue to disrespect people with disabilities with vote against doubling ODSP
November 1, 2022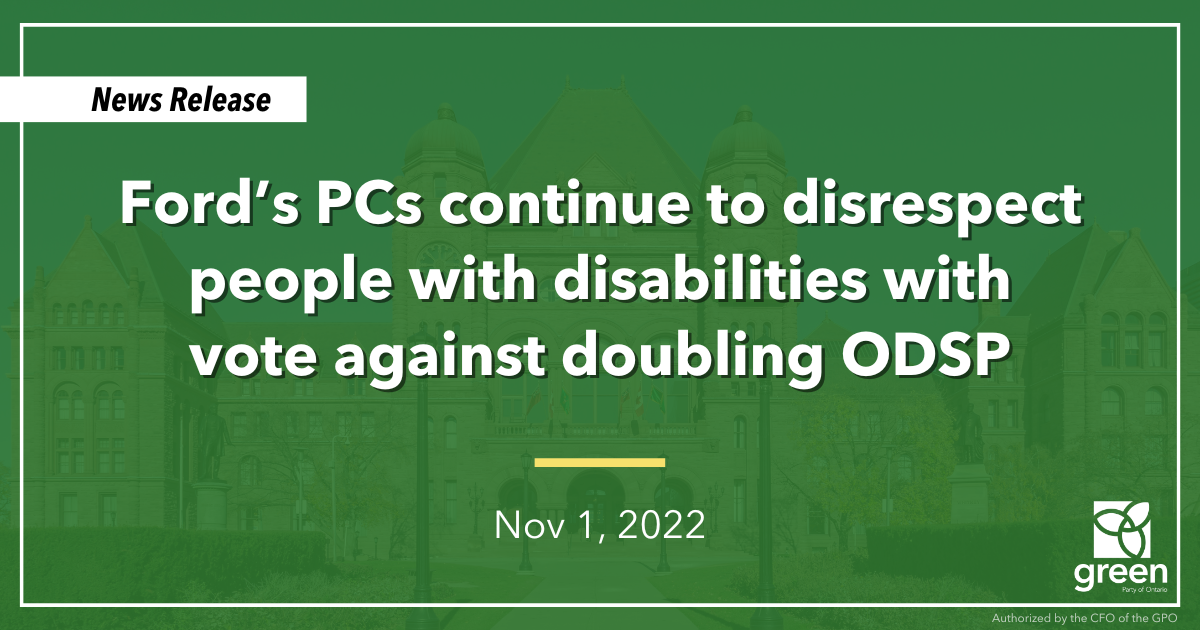 TORONTO — Doug Ford's PCs continue to ignore the calls of people with disabilities (PWDs) and reject opportunities to address the cost of living crisis they are facing. After blocking the Greens' motion to double Ontario Disability Support Program (ODSP) rates just two weeks ago, the PCs said no again today by vetoing the Opposition Day Motion.
"Thousands of people in Ontario are living 30 per cent below the official poverty line because the Ford government refuses to increase ODSP rates to a liveable level," Ontario Greens Leader and MPP for Guelph Mike Schreiner said at the #Rally4ODSP earlier today on the Queen's Park lawn.
"This is legislated poverty.
"Inflation is sky-high. PWDs are forced to choose between putting food on the table and keeping a roof over their heads. And Doug Ford's response? To offer a paltry 5 per cent increase that doesn't even keep up with inflation. It's insulting. It's disrespectful. Especially when we know the Premier is sitting on a budget surplus," Schreiner stated.
A single person on ODSP is forced to somehow live on $1,228 per month, or $14,736 annually. That's about 30 per cent below the province's poverty line of roughly $20,000.
'It's not humane or sustainable."
Schreiner also pointed out that poverty costs Ontario $33 billion per year. "Ending legislated poverty is both the right thing to do and the fiscally responsible thing to do," Schreiner said.
The Ontario Greens were the first provincial party to listen to the calls of PWDs and advocate for a doubling of ODSP.
"Greens will continue to lead the fight with for PWDs and against Doug Ford's legislated poverty," Scheriner said.
-30-
Media contact:
John Chenery
johnchenery@gpo.ca
437-929-1792
-30-