For more information, please contact
Cecilia Stuart
Doug Ford takes a chainsaw to the rights of education workers
November 1, 2022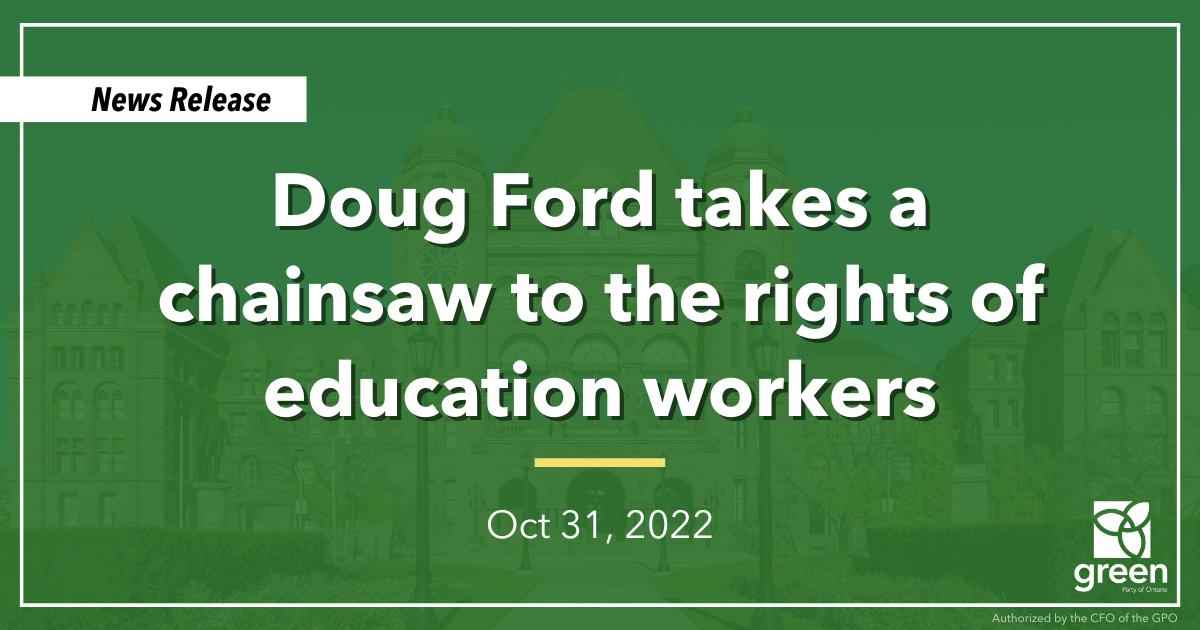 TORONTO — Ontario Greens leader and MPP for Guelph, Mike Schreiner, released the following statement in response to news that the Ford government will invoke the Notwithstanding Clause to forestall a charter challenge to its legislation imposing a contract on Canadian Union of Public Employees education workers.
"This government is taking a chainsaw to the constitutional rights of education workers.
It seems nothing is off the table when it comes to denying workers their democratic right to bargain collectively for fair wages and conditions.
Students will pay the price for the instability in the education system that this bill will create.
Ford clearly understands that he is violating the constitutional rights of the lowest paid education workers by invoking the notwithstanding clause.
These are the same education workers who sacrificed so much during the pandemic, who ensure our kids get to school safely and have clean and safe classrooms to learn in.
Yes, students should be in school learning, but taking a sledgehammer to the rights of education workers is not going to achieve that. The bullying and intimidation of education workers and unions has to stop because caring for the workers who care for our kids directly affects the quality of their education.
Once again, I call on Ford and Lecce to backtrack on this legislation and work with CUPE in a respectful bargaining process that delivers the best outcome for students and families."
-30-
Media contact:
John Chenery
johnchenery@gpo.ca
437-929-1792
-30-