For more information, please contact
Cecilia Stuart
Housing, ODSP, healthcare, and energy top priorities for Ontario Greens as legislature resumes
October 21, 2022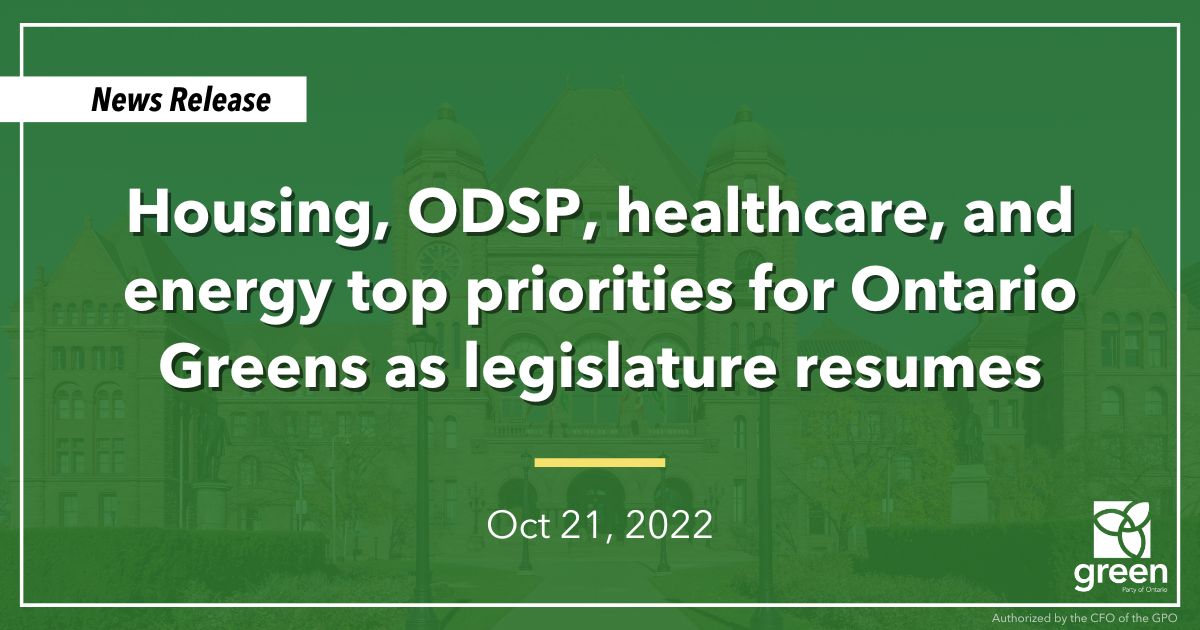 TORONTO — Ontario Greens leader and MPP for Guelph, Mike Schreiner, released the following statement outlining the party's legislative priorities ahead of the return to Queen's Park next week.
"The rising cost of living, a crumbling healthcare system, schools facing labour disruption, a looming energy crisis, and thousands continuing to live below the official poverty line – it's very clear what our priorities should be," said Schreiner.
"The results of the Ford government's mismanagement of healthcare, education, housing and energy are out there in plain sight. Everywhere you look, there's a crisis.
"And there are real-world consequences for people's day-to-day lives – whether they have an affordable place to live, confidence in being able to access healthcare when they need it, whether their children have a stable place to learn or a stable climate to thrive."
In the new session, Ontario Greens will continue to lead on:
Tackling the affordability crisis by introducing effective housing legislation, addressing skyrocketing food prices, and fighting to double ODSP payments;
Improving healthcare by treating nurses and frontline healthcare workers with respect by repealing Bill 124;
Restoring order and implementing low-cost solutions to the province's chaotic energy policies; and
Pushing for responsible spending, including scrapping the multi-billion dollar Highway 413 and Bradford bypass projects and investing in healthcare, education and social supports.
"Stumbling from crisis to crisis is no way to run a government. It's time for Premier Ford and his ministers to put people first," said Schreiner.
"Ontario Greens will continue to push the government to act on the affordability and cost of living crisis; reverse its short-sighted, expensive energy policies; and invest in our crumbling healthcare system."
-30-