For more information, please contact
Cecilia Stuart
Fast-track passage of Bill 7 betrays seniors, shows Ford government is out of ideas on the healthcare crisis
August 31, 2022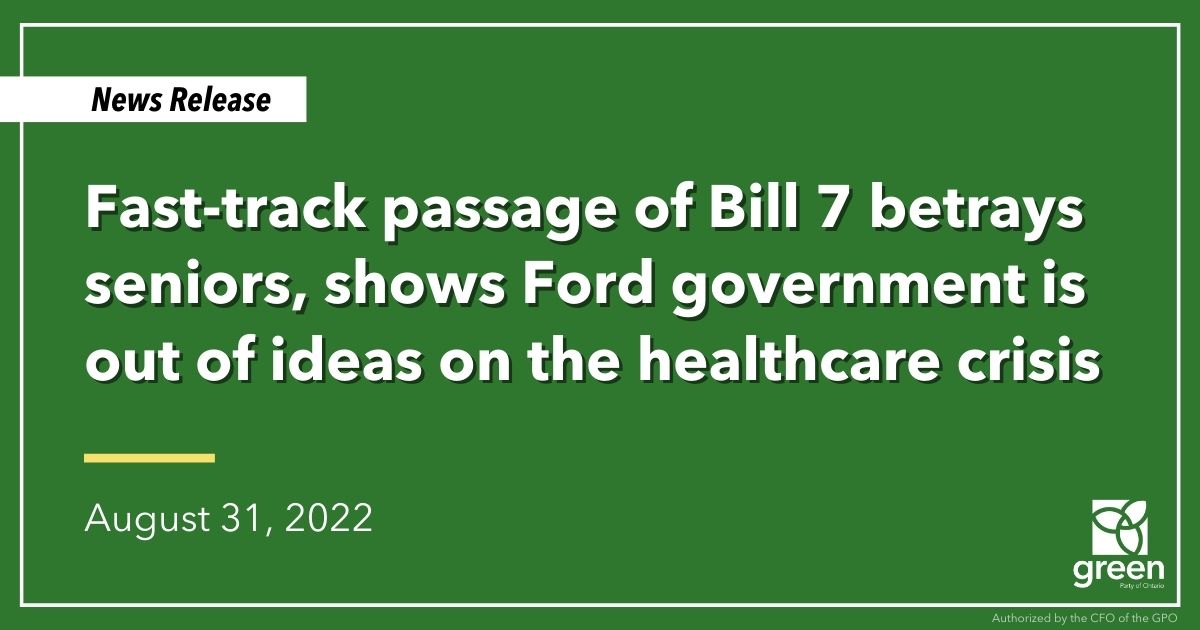 QUEEN'S PARK — Ontario Greens Leader Mike Schreiner today released the following statement in response to the passage of Bill 7 "More Beds Better Care Act"
"This legislation is an attack on the rights of the frail and elderly and should never have become law without proper public scrutiny.
Yet the Ford government chose to ignore the objections of seniors' advocates, Greens and the other opposition parties to slam through its unpopular Bill 7 without public committee hearings.
The legislation has been widely criticized by healthcare organizations and seniors' advocates and is already being challenged legally – and rightly so.
It allows health authorities to pressure elders to move from hospital to a long-term care home without their consent.
And many experts say that it will have little impact on the staffing problems at the root of the current crisis in our hospitals and the wider healthcare system.
There are so many other measures the government could have taken.
First among them: repeal Bill 124 which disrespects nurses and other healthcare workers by removing their right to negotiate for fair wages and better working conditions.
In a democracy, the government has a responsibility to listen to and respond to people's concerns in public where people can hold them accountable.
Today, the Ford government abandoned that responsibility. The people of Ontario deserve better."
-30-