For more information, please contact
Cecilia Stuart
Ontario needs less talk and more action on healthcare
August 17, 2022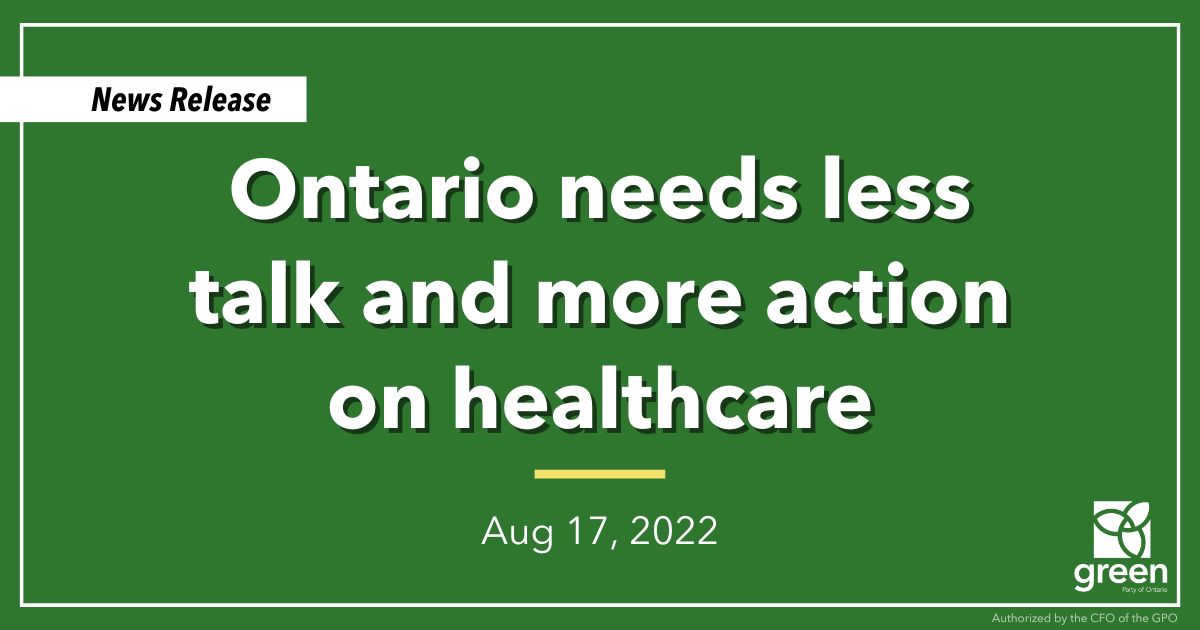 OTTAWA — Ontario Greens leader and Guelph MPP, Mike Schreiner, made the following statement today in response to the latest evidence of the government's mishandling of healthcare in Ontario.
"Less than three months into Doug Ford's second term, we are witnessing a government in denial and disarray as it faces the ongoing crisis in the province's healthcare system.
Health Minister Sylvia Jones said today that the status quo 'cannot respond to the current challenges the sector is facing' – and no one would argue with that.
But her government has been missing in action when it comes to solutions other than hinting at privatization.
The staffing crisis in healthcare has forced the closure of emergency departments and lengthened wait times across the province.
Meanwhile, hospitals are paying out millions to private nursing agencies to try to shore up their rosters.
Yet as exhausted and dispirited nurses flee their permanent jobs for better paid work with private agencies or leave the sector altogether, the Ford government stubbornly refuses to repeal Bill 124 which denies healthcare workers the right to negotiate for fair pay and conditions.
And today, we learned that last fall, with Omicron about to tear across the province, the government ordered Ontario Health to find "efficiencies and savings" related to the pandemic.
Is this how we ended up with last year's healthcare budget underspent by $1.8 billion while the frontline workers who make the system work suffer career-ending stress and burnout?
Ontario deserves less talk and more action from this government.
As a first step, Ontario Greens are calling on the Ford government to repeal Bill 124 immediately and, as a matter of urgency, implement a nurse retention strategy that includes:
Implementing permanent raises for all healthcare workers, not just temporary bonuses
Closing the gap in compensation between public and private health care workers
Improving working conditions including a strategy to end violence against staff
Providing onsite childcare and other workplace supports
Increasing support for primary, community and home care providers to ease pressure on hospitals."
-30-