For more information, please contact
Cecilia Stuart
Ontario has changed, but the Ford government keeps singing the same old song
August 9, 2022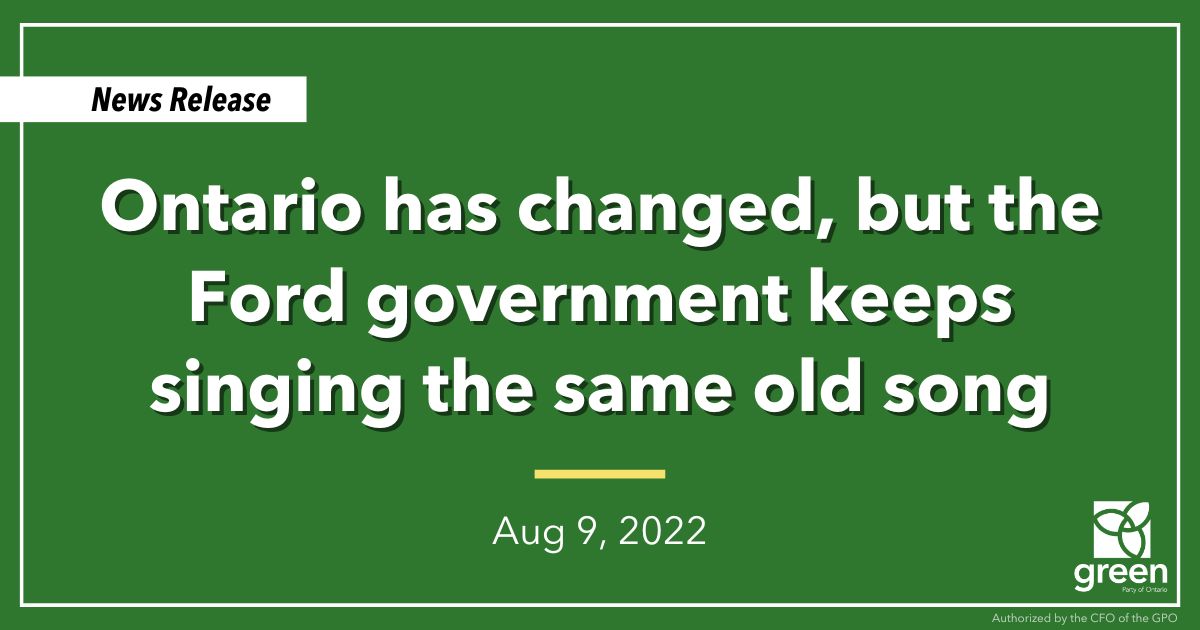 QUEEN'S PARK — Green Party of Ontario Leader Mike Schreiner released the following statement in response to today's Throne Speech and the tabling of the provincial budget.
"The number and scale of the challenges Ontarians face today is unprecedented in our lifetime:
a healthcare system in crisis
rising inflation making it hard for people to make ends meet
soaring rents adding to an existing affordable housing crisis
the negative impacts of the climate emergency becoming more apparent every day
But what did we hear in today's Throne Speech at Queen's Park?
Not a single word acknowledging that we face a climate crisis.
No indication that the government will respect the rights of healthcare workers to fair wages and benefits by repealing Bill 124. Beds and buildings without workers will not provide the care Ontarians need.
Instead the government has served up the same tired mixture of band-aid fixes and grand schemes that benefit wealthy land speculators to pave over the province's precious farmland and natural beauty.
Premier Ford, it's time to shift focus to the problems at hand and deliver the bold solutions the people of Ontario need.
Ontario Greens are calling on the Premier to:
Repeal Bill 124 and pay nurses and healthcare workers the fair wages they deserve.
Immediately double ODSP rates so that people with disabilities don't have to live in legislated poverty.
End exclusionary zoning and invest in deeply affordable housing so that everyone can find an affordable place to call home in the neighbourhood they want to live.
Make the province climate ready by stopping sprawl and canceling Greenbelt highways like 413.
-30-