For more information, please contact
Cecilia Stuart
Premier Ford, you are failing to get it done for the people of Ontario
August 8, 2022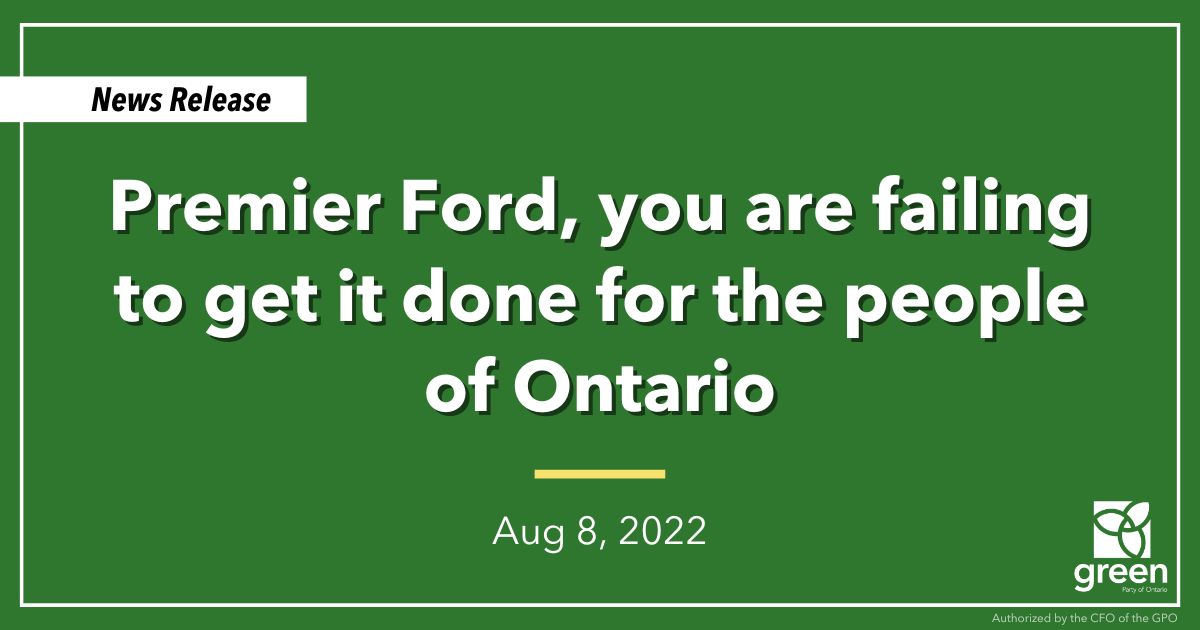 TORONTO — Mike Schreiner released the following statement outlining Green priorities ahead of the start of the legislative session:
"As we begin the new legislative session at Queen's Park this week, emergency rooms are closing in crisis, rental rates are skyrocketing to amounts unaffordable for most, and people are struggling to make ends meet as inflation rises.
I have one question for Doug Ford: What does 'getting it done' mean to you?
This was your commitment to the people of Ontario during the spring campaign. But if this summer is an example, people are in for a long, hard four years waiting for their government to act.
Post-election you've gone AWOL. It's as if you have forgotten you are Premier.
You say your government is doing everything you can, but you literally are not.
You have underspent your healthcare budget by $1.8 billion at a time that the system is collapsing.
Getting it done means immediately repealing Bill 124, and paying nurses and healthcare workers the fair wages they deserve.
Getting it done means doubling ODSP rates so that people with disabilities don't have to live in legislated poverty.
Getting it done means ending exclusionary zoning and investing in deeply affordable housing so that everyone can find an affordable place to call home in the neighbourhood they want to live.
And finally, getting it done is making sure the province is climate ready, starting with protecting the farmland that feeds us and the nature that protects by stopping sprawl and canceling Greenbelt highways like 413.
These urgent issues require an equally urgent response. Ontarians deserve better."
-30-