For more information, please contact
Cecilia Stuart
Earth to Doug Ford: You are the Premier of this province and you must act now on healthcare crisis
August 3, 2022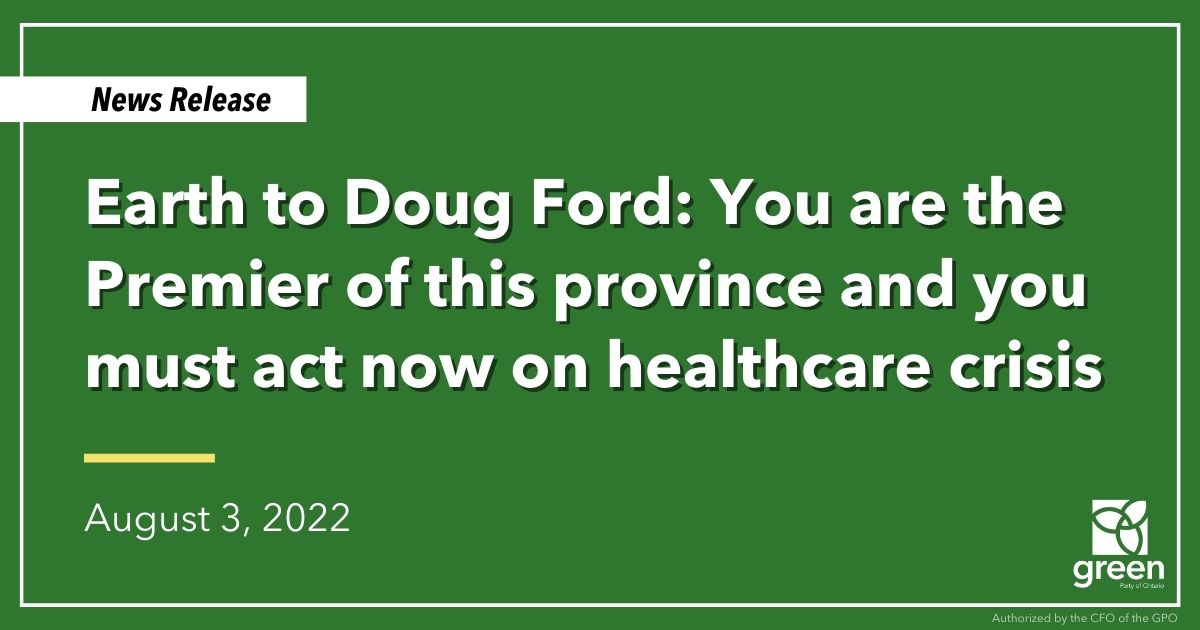 GUELPH — Ontario Greens Leader and MPP for Guelph Mike Schreiner issued the following statement in response to Premier Ford's comments on the state of Ontario's healthcare system:
"A reminder to Doug Ford: You are the Premier of this province. You need to stop comparing Ontario's healthcare challenges to the ones that exist in other provinces, as if we just need to accept the status quo. Your job is to fix Ontario's healthcare system.
Today we have another day, and yet another signal from this government proving they don't fully understand the severe crisis facing our healthcare system.
The government has been steadfast that they are doing everything they can to address the situation.
But we know there are numerous options still on the table that nurses and unions have been requesting for months. Options that go beyond a one-time bonus.
We need real solutions to fully compensate, reward and support frontline healthcare workers for providing care to our loved ones.
Ontario Greens are calling on the Ford government to immediately implement a nurse retention strategy that includes:
Immediately repealing Bill 124 and committing to fair bargaining processes for all healthcare workers
Implementing permanent raises for all healthcare workers, not just temporary bonuses
Closing the gap in compensation between public and private health care workers
Improving working conditions including a strategy to end violence against staff
Providing onsite childcare and other workplace supports
Increasing support for primary, community and home care providers to ease pressure on hospitals
-30-