For more information, please contact
John Chenery
About Mike
Mike Schreiner, Leader of the Green Party of Ontario and MPP for Guelph, is the first Green MPP elected to the Ontario Legislature in 2018.
Mike Schreiner issues statement on Premier Ford's new cabinet
June 24, 2022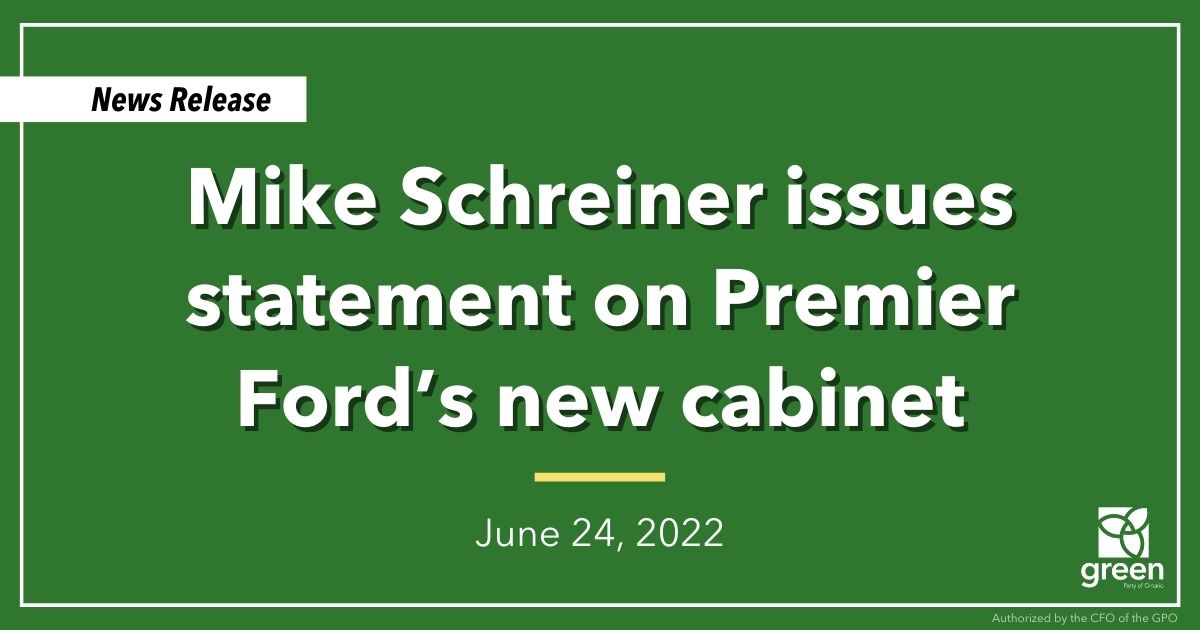 TORONTO — Ontario Greens Leader, Mike Schreiner, issued the following statement on the swearing-in of Premier Ford's new cabinet:
"Today, I offer my congratulations to Premier Ford on the swearing in of his new cabinet.
However, it is discouraging to see only 7 women of the 30 ministers. Representation matters, and all governments should strive for gender parity.
I also urge the Premier to reflect on the significance of the next four years in the fight against the climate crisis.
The Premier and his new cabinet must act urgently to make Ontario climate ready.
We must protect the farmland that feeds us, the wetlands that clean our drinking water and protect us from flooding, and the nature that helps mitigate the severity of climate fuelled extreme weather events.
The government simply cannot continue down the path of dismantling environmental protections and increasing climate pollution by building new highways and ramping up gas plants.
We must address the housing affordability crisis without paving over our future and threatening our agriculture economy and food security.
We need to build affordable, connected, climate ready communities.
I am ready to work hard and across party lines on these priorities. I am also ready to hold the Ford government to account. I will continue to push for a real plan to tackle the climate crisis, and to defend and protect the people and places we love in Ontario."
-30-