For more information, please contact
John Chenery
About Mike
Mike Schreiner, Leader of the Green Party of Ontario and MPP for Guelph, is the first Green MPP elected to the Ontario Legislature in 2018.
Mike Schreiner statement on the one year anniversary of London Islamophobic terrorist attack
June 6, 2022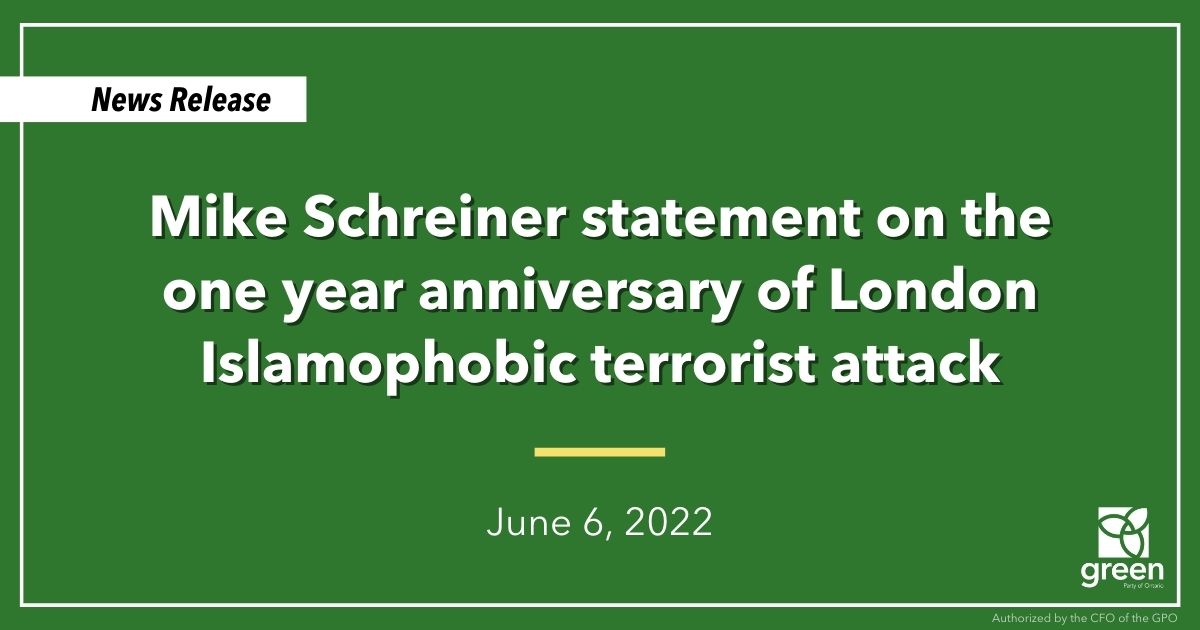 TORONTO — Ontario Greens Leader Mike Schreiner made the following statement on the one year anniversary of the Islamophobic terrorist attack that killed the Afzaal family in London:
"Today, along with all of Ontario and Canada, I am mourning the loss of the Afzaal family that was targeted and killed by a white supremacist terrorist in London exactly one year ago today.
It is sickening that they were attacked because of their Islamic faith. It is sickening that four lives were lost to hate, and a young boy left orphaned and injured.
My heart goes out to the Muslim and London community and the family and friends of the Afzaal family.
What happened a year ago in London was truly devastating. And it is the responsibility of all governments to take action to ensure that another tragedy like this never happens again.
And that is why Ontario Greens are fully committed to working across party lines to pass the National Council of Canadian Muslims' Our London Family Act, to take concrete, meaningful action to combat Islamophobia in Ontario.
We need a unified effort to eradicate Islamophobia from Ontario.
Islamophobia and hate has no place in Ontario. And as elected officials, it is our responsibility to stand up against rising levels of white supremacy by turning words into legislative action.
I'm calling on Doug Ford to pass Our London Family Act with all-party support."
-30-