For more information, please contact
Cecilia Stuart
Schreiner in Dufferin-Caledon: Greens will stop Doug Ford's expensive sprawl
May 30, 2022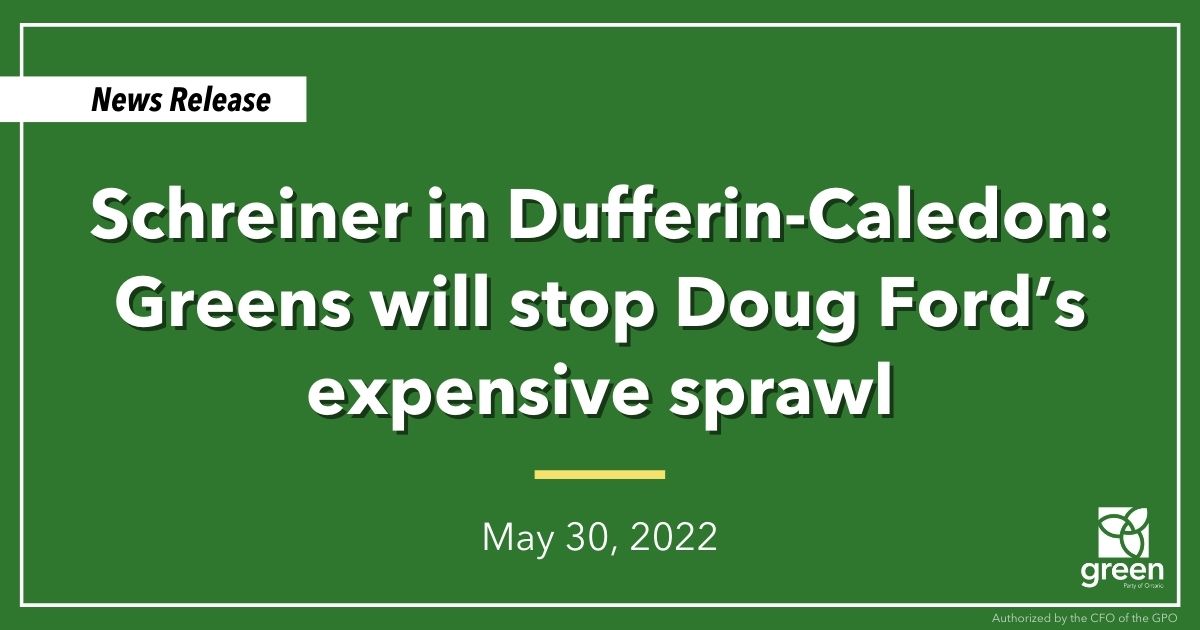 CALEDON VILLAGE — Mike Schreiner stopped in Dufferin-Caledon today as part of his homestretch tour: The Final Charge alongside local candidate Laura Campbell.
"Ontario Greens will stop Doug Ford's expensive sprawl by cancelling Highway 413 and protecting the farmland that feeds us. Instead, Greens will build livable, connected and affordable communities," Schreiner said.
"Sprawl is expensive, bad for the environment, bad for food security, bad for our health and makes us more vulnerable to the impacts of the climate emergency by destroying the wetlands that protect us from flooding."
Highway 413, which will cut through the Dufferin-Caledon riding, will slice right through the Greenbelt, threaten our food security by paving over 4,000 acres of farmland, and will put communities in the region at greater risk from climate-fuelled flooding and storms by destroying wetlands.
"There is urgency in this campaign," Schreiner said. "This election comes at a critical time. We face a climate crisis that the other parties simply deny or offer up half measures that won't provide the real solutions people need."
"Together we can crush climate pollution and stop the sprawl."

"We must say no to paving over our precious farmlands and wetlands. We have to protect the people and places we love."
"Let's get out there and make history by electing more Green MPPs like Laura Campbell!"
-30-