For more information, please contact
John Chenery
About Mike
Mike Schreiner, Leader of the Green Party of Ontario and MPP for Guelph, is the first Green MPP elected to the Ontario Legislature in 2018.
Schreiner and Richter help paint Parry Sound–Muskoka Green on 'Super Saturday'
May 28, 2022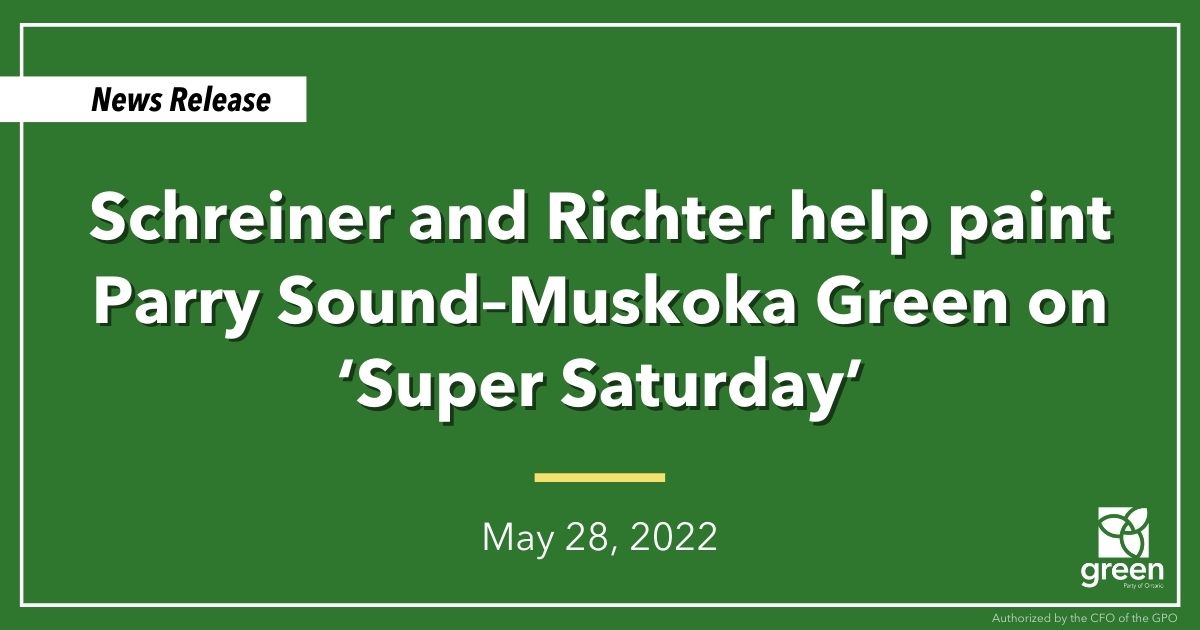 TORONTO — MUSKOKA- Leader Mike Schreiner joined local candidate Matt Richter for 'Super Saturday' in Parry Sound-Muskoka today. Schreiner and Richter spent the day alongside volunteers meeting with local residents across the riding. This was the biggest Green event in Parry Sound-Muskoka history, as over a hundred volunteers were out supporting Richter's surging campaign in communities across the riding, including Huntsville, Muskoka Falls, Bracebridge, Gravenhurst, Sundridge, and Parry Sound.
"The momentum behind our campaign is unlike anything we've seen before," Richter said.
"With over four hundred volunteers, our campaign has listened and continues to listen to the people of our riding. There's so much energy. What we're hearing at the door, on the phone, on mainstreets and in small businesses, is that the people of Parry Sound–Muskoka are ready for real change and new solutions. The community is excited to have a local leader at Queen's Park that stands up for our riding, nature, educators and health-care workers and will work to ensure everyone has an affordable place to call home."
Richter has significant momentum in the riding, as highlighted by recent polls. There are over 1,700 Matt Richter signs out in the riding on private property, and the campaign has directly reached as many as 36,000 voters. Richter has also picked up a number of significant endorsements, including from OSSTF and ETFO, health-care workers union SEIU, and renowned environmental activist David Suzuki.
"Every time I come up to Parry Sound–Muskoka I see more green signs, I see more volunteers and I see more people that are ready for new solutions to old problems," Leader Mike Schreiner said. "The people of Parry Sound–Muskoka know that in Matt they have someone they can trust to put their best interests forward at Queen's Park."
"Matt has the leadership to build the caring, connected, climate-ready Parry Sound–Muskoka that people want. And with more Green MPPs at Queen's Park, we can make real change with new solutions to people's old problems."
-30-