For more information, please contact
Cecilia Stuart
Ontario Greens will build clean & connected communities and stop Doug Ford's expensive & polluting sprawl
May 27, 2022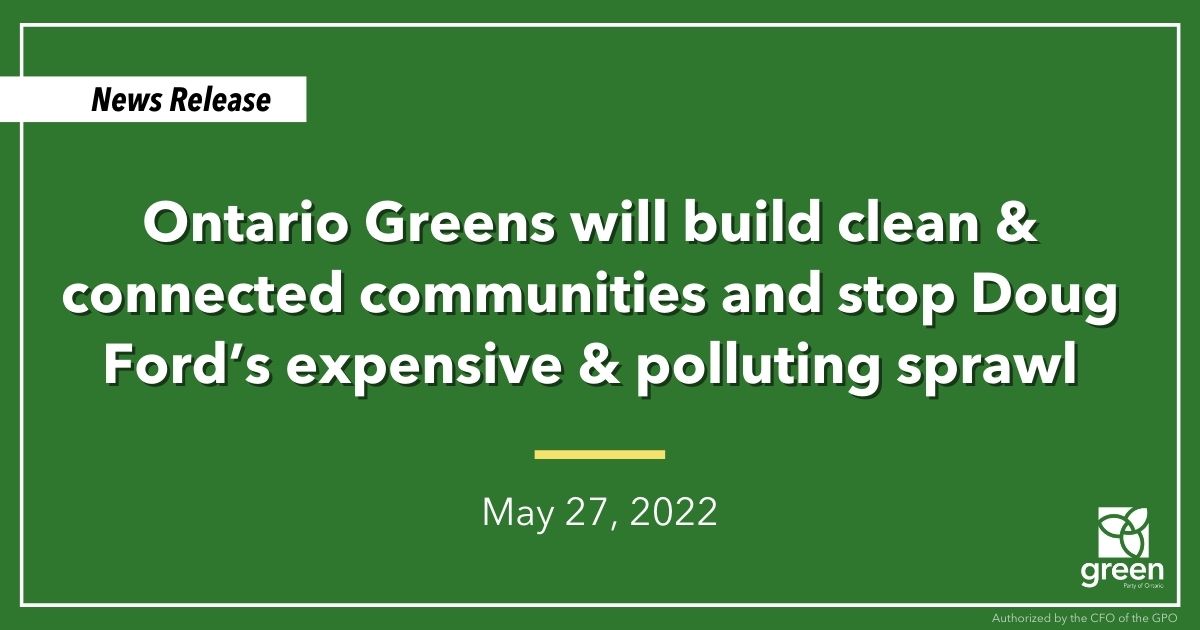 HAMILTON — Leader Mike Schreiner announced the Ontario Greens' Clean & Connected Communities Plan in Hamilton this morning, alongside local candidates Sandy Crawley (Hamilton Centre), Cassie Wylie (Hamilton East-Stoney Creek), and Syam Chandra (Hamilton West-Ancaster-Dundas).
Over the last four years, Doug Ford's anti-climate agenda has forced cities into unnecessary choices between building homes and protecting farmland and greenspace. This is a false choice.
Ford's expensive super-sprawl agenda wastes money and resources paving over farms, forests and wetlands and pollutes the air we breathe.
And it's the opposite of what many people are looking for in the Greater Golden Horseshoe: walkable neighbourhoods with thriving small businesses, clean air, access to locally grown food, and protected greenspace and waterways.
Greens will build connected, clean and transit-oriented communities in Hamilton and across Ontario:
Cancel supersprawler highways like Highway 413 and reverse the Ford government's changes to the Growth Plan that encourage sprawl and destroy the province's natural environment.
Embrace transit-oriented development by pre-zoning for missing middle and midrise housing and requiring minimum densities along transit corridors as part of the Growth Plan, including building affordable housing along the Hamilton LRT route.
Cut transit fares in half for everyone and make transit free for highschool students and people who are low income.
Triple public transit trips in communities across Ontario by 2030 by improving service reliability and convenience, including tripling dedicated bus lanes by 2025 and adding 4,000 electric and fuel-cell buses by 2030.
Make communities walkable, cyclable and safer, by investing in active transportation like protected bike lanes and protected walking paths and assisted mobility infrastructure, and giving bike lanes, bus lanes, patios and green space priority over street parking.
"Doug Ford is trying to impose his expensive, polluting sprawl agenda on communities across Ontario," Schreiner said. "And I applaud Hamilton for standing up to the PCs and saying no."
We are in a climate emergency. Transportation is the largest source of Ontario's climate and air pollution. And a big part of that comes from long, expensive, fossil-fuel commuting.
"Greens have a plan to crush climate pollution and build clean and connected communities where it's more affordable and convenient to get around in cleaner, cheaper ways– whether that's biking, walking or taking transit."
"We'll build communities where the air you breathe is clean and it's quick and easy to get to work, to school, to the grocery store, or to visit your favourite local small business or a loved one."
"We have new solutions to build the communities you want," Schreiner said. "And we have the leadership to make it happen."
-30-