For more information, please contact
Cecilia Stuart
SEIU endorses Ontario Greens' Schreiner & Richter
May 26, 2022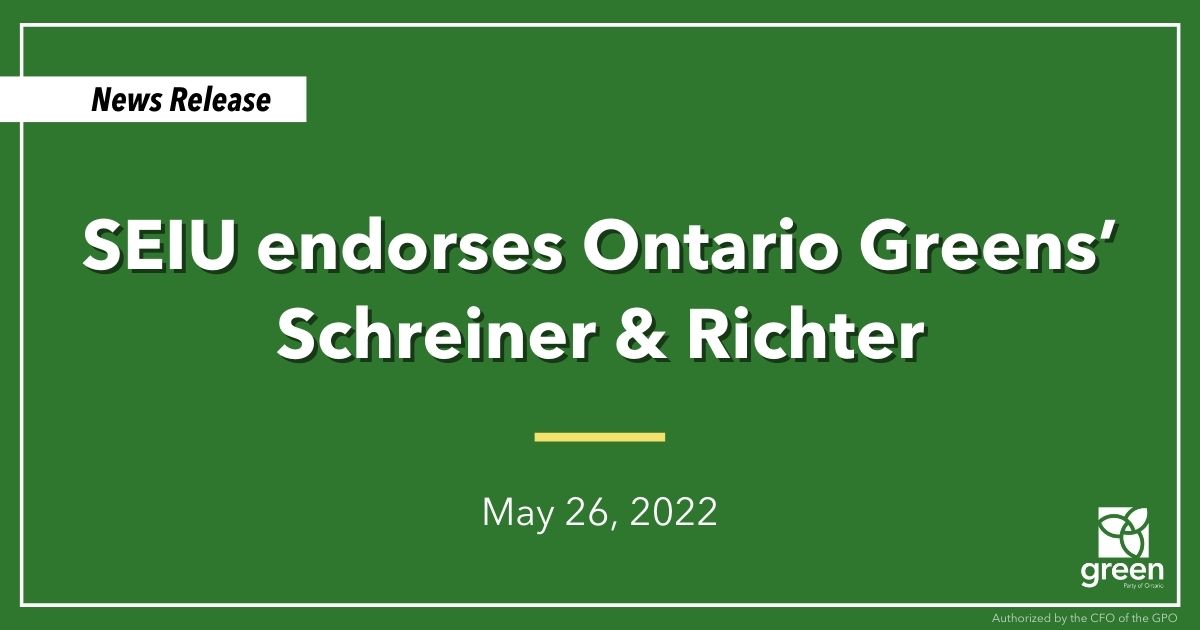 GUELPH/HUNTSVILLE — Today, the Service Employees International Union (SEIU) officially endorsed Ontario Greens' Leader Mike Schreiner and candidate for Parry Sound-Muskoka Matt Richter. SEIU was represented by Jenn Frandsen, a frontline Registered Practical Nurse who serves on the SEIU Executive board to represent the Parry Sound-Muskoka region, at the virtual announcement.
This is the first-ever time that SEIU has endorsed Green candidates.

"Thank you to SEIU for your support," Schreiner said. "Greens are fully committed to standing up for healthcare workers, repealing wage-freezing Bill 124, and improving working conditions."
"Frontline care workers deserve better. Healthcare workers are the backbone of Ontario's healthcare system and pandemic response. They're the heart and soul of our health system. I will continue to work hard at Queen's Park to be their voice in the legislature."
"It's an honour to be recognized for our advocacy for healthcare workers," Richter said. "Nurses, PSWs and other healthcare workers deserve respect and fair wages. Muskoka Algonquin Healthcare lists staffing shortages as their number one concern, due to lack of pay and housing availability."
"Rural regions like Parry Sound–Muskoka will be hardest-hit by the staffing crisis in our hospitals and it's time we give healthcare workers the raise and the dignity they deserve."
SEIU's endorsement adds to a growing list of endorsements that Richter has received by prominent local, provincial and national voices. In a historic moment, Richter (along with Schreiner) was notably endorsed by OSSTF last week. He has also been endorsed by local ETFO representatives and David Suzuki.
"Greens are committed to building a more caring Ontario," Schreiner said. "Where healthcare workers are treated with respect. If we want to build a more caring society, it starts with supporting the workers who care for all of us."
-30-