For more information, please contact
John Chenery
About Mike
Mike Schreiner, Leader of the Green Party of Ontario and MPP for Guelph, is the first Green MPP elected to the Ontario Legislature in 2018.
Schreiner & Saxe announce Ontario Greens' Plan for a Climate-ready Ontario
May 26, 2022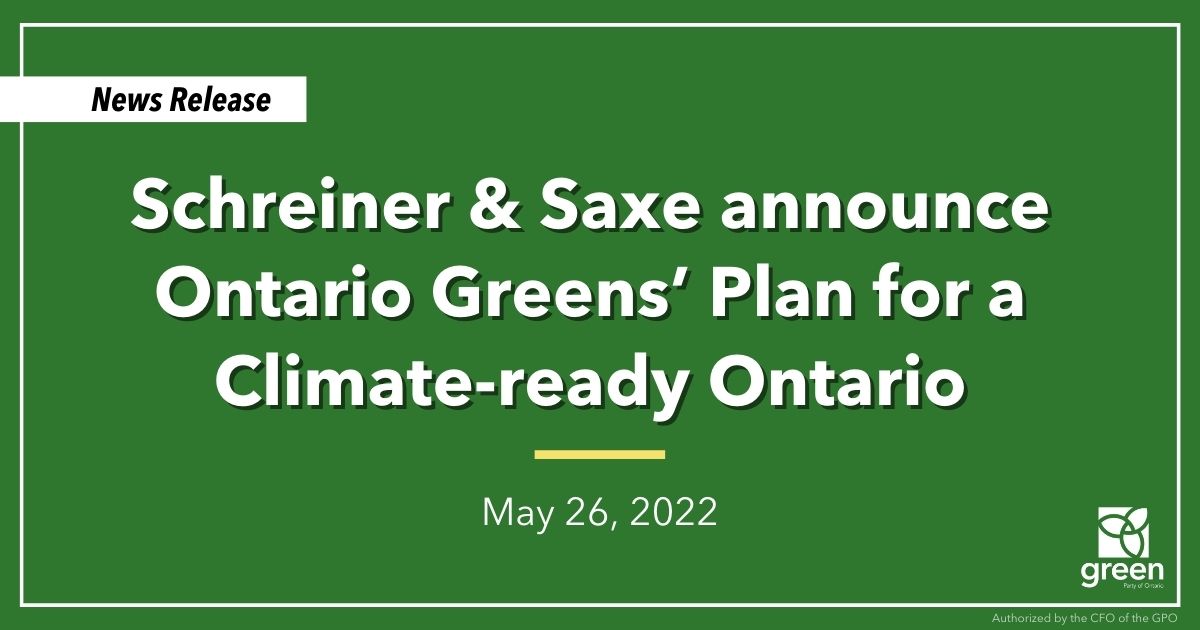 TORONTO — Leader Mike Schreiner and Deputy Leader Dianne Saxe announced the Ontario Greens' Plan for a Climate-ready Ontario today.
"Last Saturday's devastating storm is another harsh example of the severe impacts of the growing climate emergency," Schreiner said. "As the climate emergency worsens, storms like these will only become more intense, frequent, deadly and costly."
"Yet Doug Ford is paving over the nature that protects us from extreme weather events, is dismantling environmental protections, and is ramping up climate pollution with highways and gas plants that will make the climate emergency worse and these types of storms more likely and severe," Dianne Saxe, former Environmental Commissioner of Ontario, said.
A report from the Financial Accountability Office (FAO) showed that climate-fueled extreme weather will cost the province's public building $6 Billion this decade (plus much more from flood damage) and $116 Billion this century in extra costs to public buildings alone.
"Greens are the only party serious about new solutions to create a climate-ready province that's resilient to the worsening climate crisis," Schreiner and Saxe said.
The Ontario Greens' Plan for a Climate-ready Ontario will:
1) Prepare our power grid to withstand severe storms
Rapidly scale up local power generation (e.g. solar) and power storage to help keep people and businesses' power on after severe storms
Encourage bi-directional EV charging so EVs can provide local power in emergencies.
Create grants and loans so that vulnerable communities can own their own local renewable energy supply
Revise the mandate of the Ontario Energy Board to include long-term electric utility resilience, reversing the current bias towards short-sighted penny-pinching that makes utilities brittle
2) Invest now in urgent infrastructure upgrades to make municipalities climate ready
Create a $2B/year dedicated Climate Adaptation Fund to help municipalities make their infrastructure more resilient to the impacts of climate change
3) Protect and restore the nature that protects us from extreme weather, including stopping sprawl, increasing green space and working with Indigenous communities to permanently protect 25% of Ontario land and water by 2025 and 30% by 2030
4) Save money, improve communities and prepare for storms with nature-based green infrastructure
Establish a dedicated $200 million green infrastructure fund to allow for long-term planning, delivery, and maintenance of green infrastructure projects including stormwater management
Earmark at least 15% of infrastructure spending for green infrastructure (meaning living plants and soil — not concrete)
5) Restore Conservation Authority powers and resources that Liberal and Conservative governments took away, so they can protect communities from flooding.

6) Increase food security by protecting farmland and investing in local food and farming
Immediately cancel wasteful highway projects like Highway 413 and Bradford Bypass which will pave over 2,000 acres of prime farmland and unleash sprawl on even more farmland
Permanently protect prime farmland, including a freeze on urban boundaries, to prevent the best farmland from being lost to non-agricultural use
7) Improve the building code so we don't keep building new homes that are vulnerable to extreme weather
"Ontario Greens have new solutions to make our communities safer and more resilient, now and for the future," Schreiner said. "We have the leadership to build the climate-ready Ontario you want."
-30-