For more information, please contact
Cecilia Stuart
Ontario Greens will protect & expand access to nature, including creating 5 new provincial parks
May 23, 2022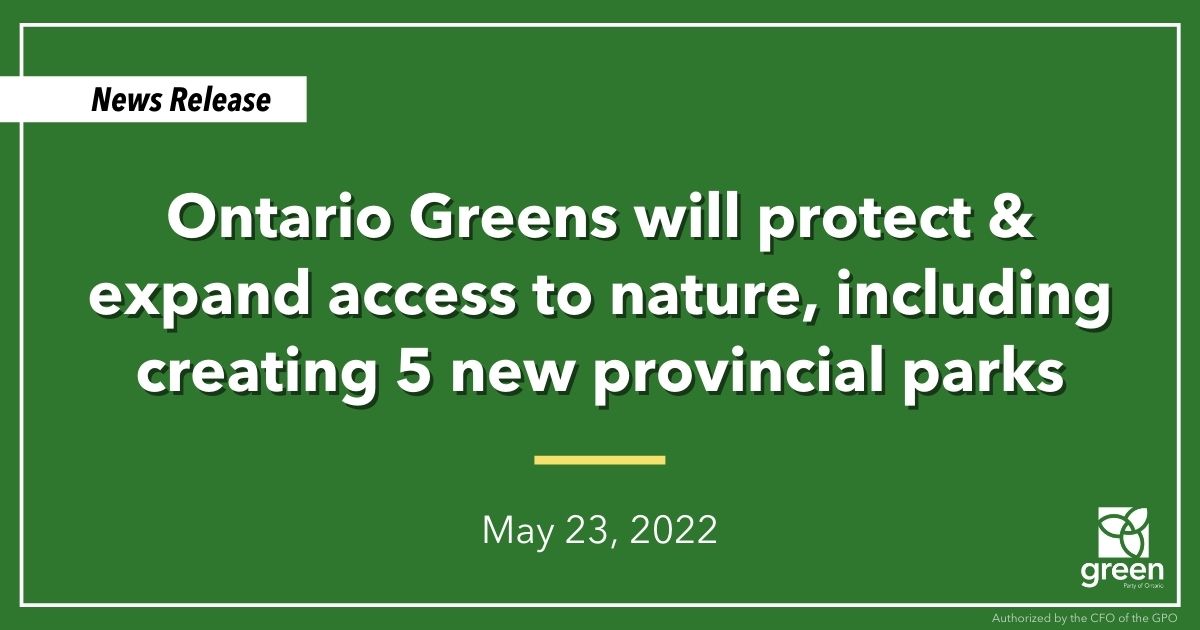 GUELPH — Leader Mike Schreiner made a special holiday Monday announcement alongside PEI Greens Leader Peter Bevan-Baker.
"On this holiday Monday, many Ontarians are out enjoying the beautiful nature this province has to offer," Schreiner said. "But these places that so many people and families love spending time in are under threat. Doug Ford has declared war on nature. He's spent the past four years systematically dismantling environmental protections and is trying to pave over the Greenbelt with highways like Highway 413."
Ontario Greens will protect and expand access to nature:
Create 5 new provincial parks and strengthen and fund the ecologically integral role of Ontario's public parks system
Work with Indigenous communities to protect at least 25% of lands and water in Ontario by 2025 and 30% by 2030, including $1B in funding for Indigenous climate leadership
Double the size of the Greenbelt, strengthen the Greenbelt Act and make new highways through the Greenbelt illegal
Restore the original Endangered Species Act, 2007 and a science-based system for determining species status, recovery, and habitat protection while eliminating exemptions for industry
"Doug Ford thinks environmental protections are red tape. But Greens know it's about protecting the places we love and protecting the nature that protects us from climate impacts like flooding, storms and droughts."
Protecting our natural heritage will also enrich biodiversity and protect species at risk. The Liberals notably gutted the Endangered Species Act, and the Ford PCs have put endangered species at even greater risk.
"Expanding access to nature will also help improve people's physical and mental health and overall well-being," Schreiner said.
"Ontario Greens are fully committed to protecting and expanding access to nature to create a healthier, climate-ready province. And we have the leadership to make it happen."
-30-