For more information, please contact
Cecilia Stuart
OSSTF endorses Ontario Greens' Schreiner and Richter
May 18, 2022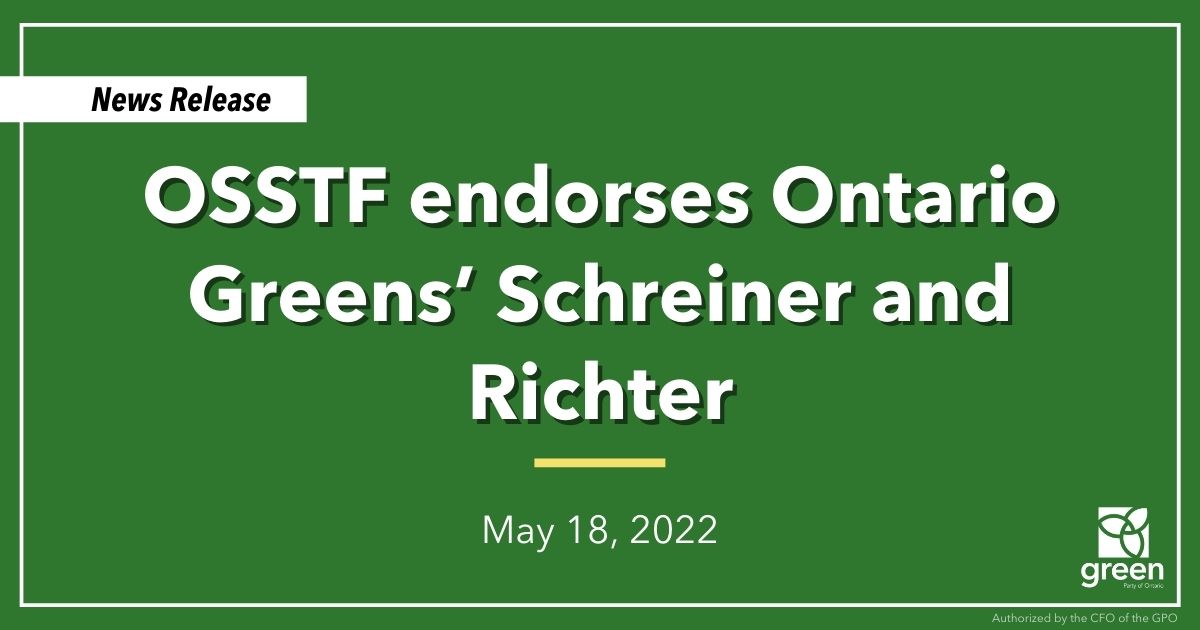 ELORA — Today, the Ontario Secondary School Teachers' Federation (OSSTF/FEESO) officially announced its endorsement of Ontario Greens Leader and MPP candidate for Guelph Mike Schreiner and candidate for Parry Sound-Muskoka Matt Richter.This is the first time the OSSTF has endorsed Green candidates ahead of an Ontario election. Today's announcement builds on an already-historic week for the Ontario Greens' that saw the party's first-ever inclusion at the official leaders' debate.
"I'd like to thank the OSSTF for their support. It means so much to have the endorsement of an organization that is doing such important work to make Ontario's public education system stronger and better for students," Schreiner said. "Before and during the pandemic, I have pushed the government to make the investments needed to strengthen public education for our children; from advocating for funding for the repair backlog and learning supports to safer schools. And I'll continue the fight at Queen's Park for students and education workers."
"As a teacher and parent, I always put the well-being of students first –– on student mental health, on improving the quality of learning, on making schools safer," Richter said. "Thank you to OSSTF for the endorsement. I look forward to representing the people of Parry Sound–Muskoka at Queen's Park and working alongside OSSTF to build a safer, healthier, and better future for our children."
Richter is looking to build on the growing momentum of his strong campaign in a Parry Sound–Muskoka riding that lacks a PC incumbent or a Liberal candidate.
"Matt is such a tremendous candidate and this endorsement is well deserved," Leader Schreiner said.
"I was up in Parry Sound–Muskoka today and yesterday and the momentum and support for Matt is growing. He'll be such a strong and thoughtful representative for his community at Queen's Park."
-30-