For more information, please contact
Cecilia Stuart
Ontario Greens announce Parry Sound–Muskoka Housing Strategy
May 17, 2022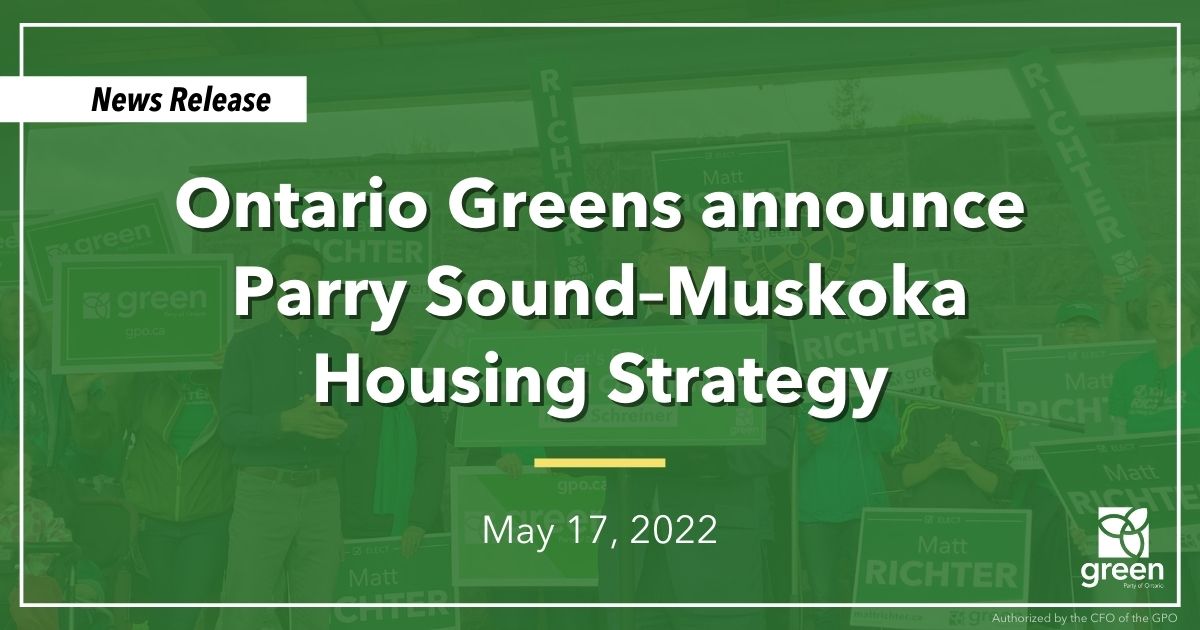 TORONTO — Ontario Greens Leader Mike Schreiner announced his party's Parry Sound-Muskoka Housing Strategy alongside local candidate Matt Richter today.
"Ontario Greens have new solutions to the old problems that the people of Parry Sound–Muskoka are facing," Schreiner said. "We are in a housing affordability crisis and it's hitting this riding particularly hard. Half measures won't cut it."
"Greens will address the housing affordability crisis in Parry Sound–Muskoka and protect nature at the same time."

Under the strategy, Ontario Greens will increase affordable housing supply and protect nature:
Increase supply by offering zero-interest loans of $25K and streamlining the application process for homeowners to add affordable rental units, such as secondary suites, onto their primary residence.
Build 1,000 affordable rental homes right here in Parry Sound–Muskoka
Freeze urban boundaries immediately and permanently protect 30% of Ontario nature by 2030 to protect homes and communities from expensive climate-fuelled extreme weather events like flooding
"I hear it from the people in my community every day: housing affordability is the top issue here in Huntsville and across the riding," Richter said. "There is simply not enough housing for everyone here to have an affordable place to call home."
Green momentum is surging in Parry Sound–Muskoka, in particular with the new development that there will be no Liberal candidate for the riding.
"Greens hear your issues and the problems you're facing, and we have real, new solutions to address them," Schreiner said. "That's how we can build the world you want. And we have the leadership with strong candidates like Matt Richter to deliver on it."
-30-