For more information, please contact
Cecilia Stuart
Ontario Greens will increase the number of Nurse Practitioner-led clinics in the North
May 9, 2022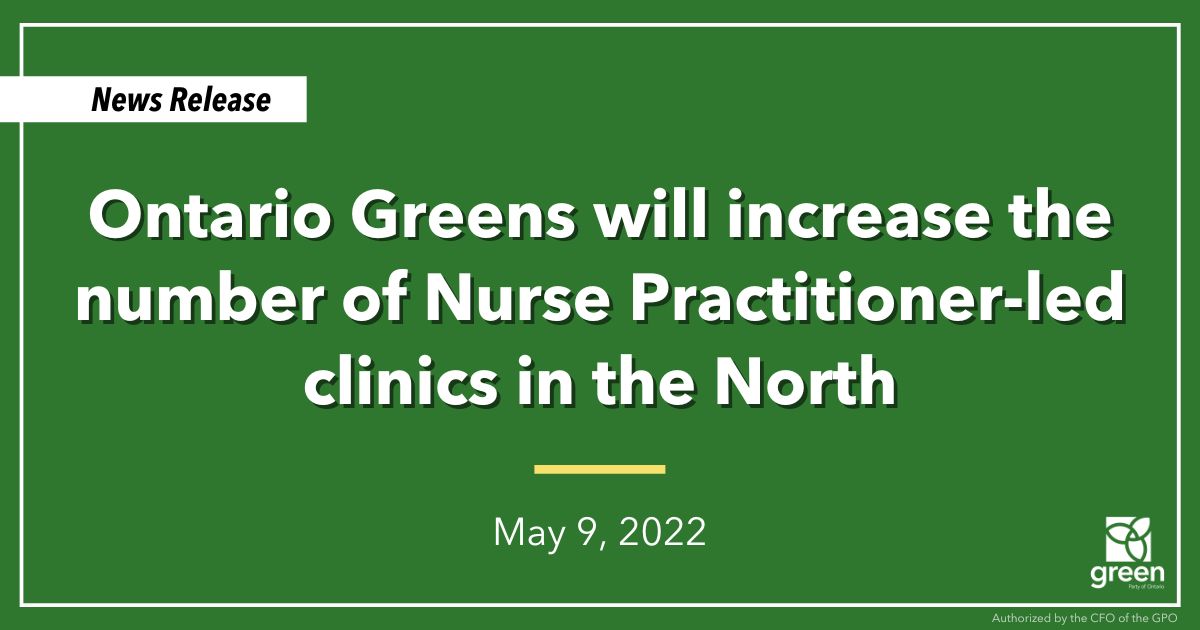 BRACEBRIDGE — Ontario Greens Leader Mike Schreiner joined candidate for Parry Sound-Muskoka, Matt Richter today for a rally in downtown Bracebridge where he announced that Ontario Greens will increase the number of Nurse Practitioner-led clinics in the North, including 3 specifically in Parry Sound-Muskoka.
"Ontario Greens have real solutions for Parry Sound–Muskoka," Schreiner said.
"Primary health care options like Nurse Practitioner-led clinics are one of the best ways to relieve the burden on hospitals, cut wait times and ensure better access to quality health care."
Nurse Practitioners play a particularly important role in rural regions and have the knowledge, competencies, and flexibility to fulfill a large number of roles throughout the health-care system.
Richter recently returned from his Going Green Riding Tour, where he visited 16 communities across Parry Sound–Muskoka over the course of four days, travelling in his fully electric campaign car.
"Green momentum across Parry Sound–Muskoka is surging," Richter said at the rally to a crowd of supporters.
"It was so great to meet with residents from across the riding and talk about the real solutions that Greens have to make life more caring, affordable and healthy."
The 3 Nurse Practitioner-led clinics in Parry Sound Muskoka will be funded by an initial investment of $5 million. This is part of a broader plan to expand Nurse Practitioner-led clinics across the province. The Ontario Green plan also would invest $51 million to increase the number of Nurse Practitioners across the province by 50% by 2030.
Schreiner will announce the Ontario Greens' full Platform for the North tomorrow morning in North Bay:

Time: 9:30am
Location: 176 Lakeshore Dr. Suite 10A P1A2A8, North Bay, Ontario
**remarks followed by media availability
**we ask all in-person media to be set up by 9:15am
-30-