For more information, please contact
Cecilia Stuart
Ontario Greens announce First-time Homebuyer Support Plan
May 9, 2022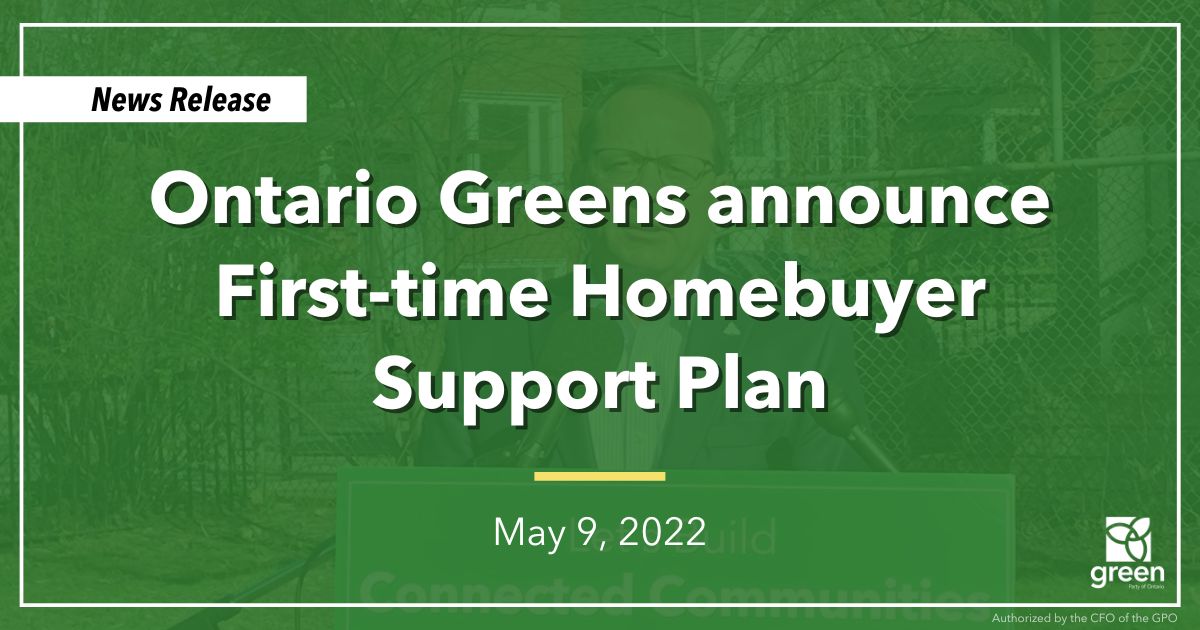 TORONTO — Leader Mike Schreiner announced the Ontario Greens' First-time Homebuyer Support Plan today, which includes a number of key policies to help cool the red-hot housing market for first-time home buyers.
Under the plan, Ontario Greens will:
End blind bidding, to make the bidding process more transparent and bring down the skyrocketing price of houses
Make home inspections mandatory at the seller's expense to save save new homeowners tens of thousands of dollars in possible repairs, provide transparency and increase consumer protection
Implement a province-wide multiple homes speculation tax and vacant home tax to reduce rampant speculative demand in the housing market and free-up homes for first-time buyers
Create a new multi-provider home warranty model for newly built homes to protect new homebuyers
"A whole generation of young people are giving up hope of ever owning a home," Schreiner said at the announcement in Toronto.
Rampant speculation, a lack of supply, and untransparent practices in the purchasing process like blind bidding means bidding wars are the norm. This further hikes up the price of homes while driving a fear of missing out on a home purchase, forcing first-time homebuyers to make rapid-fire, rushed offers without important steps like home inspections. These conditions are making it increasingly stressful and less affordable for families and individuals trying to purchase their first home.
"The current home-buying market in Ontario favours wealthy speculators and corporations with excess capital over families that are looking for a place to call home in the communities they know and love," Schreiner said. "We have a plan to change that and level the playing field."
"Ontario Greens have real solutions to stop the sprawl and address the housing affordability challenges that young families and individuals are facing. You shouldn't have to drive until you qualify and spend hours everyday in expensive, long commutes."
Ontario Greens have a real plan so you can afford to own a home in the communities you live, work, play and shop locally.
To see the full Ontario Greens housing strategy to build livable and affordable communities: gpo.ca/housing
-30-