For more information, please contact
Cecilia Stuart
Ontario Greens will build 160,000 affordable community rental homes
May 5, 2022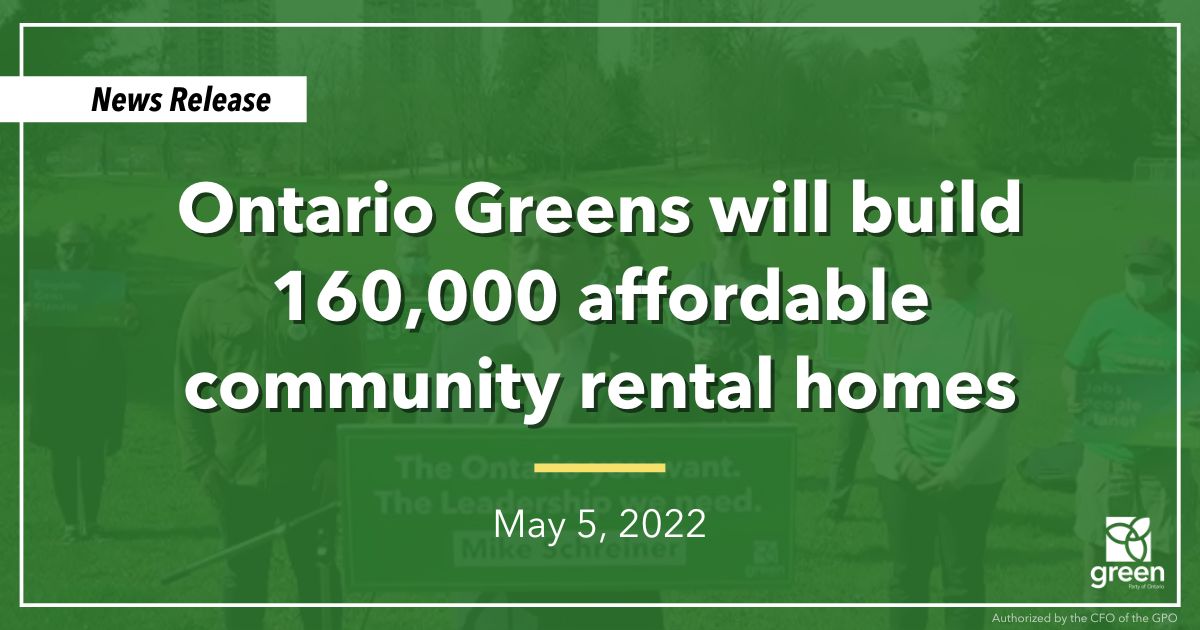 TORONTO — Leader Mike Schreiner announced today in Waterloo that Ontario Greens will build 160,000 affordable community rental homes in partnership with co-op and non-profit housing providers.
"Everyone deserves an affordable place to call home," Schreiner said at the announcement, where he was joined by Waterloo candidate Shefaza Esmail and Kitchener Centrecandidate Wayne Mak.
According to a report from the Kitchener Waterloo Community Foundation, the wait time for community housing in Waterloo is up to 8 years.
"This is completely unacceptable," Schreiner said. "Housing is a human right. But successive governments haven't acted like it, and they've made the crisis even worse" Schreiner said.
"But Ontario Greens are here to fix that!"
Ontario Greens continue to lead with a housing affordability strategy that one publication called a 'masterclass plan'.
"After we released our housing strategy last June, the other parties have been busy playing catch up," Schreiner said. "In fact, the NDP had to go back and change the number of affordable homes that they say they'll build just to try and match us."
"It's clear that the half measures of the other parties won't cut it. We have real solutions to the housing crisis facing Waterloo and Ontario. If you want to fix the housing affordability crisis, your only option is to vote more Greens in. We punch well above our weight, imagine what more Green MPPs at Queen's Park can achieve."
"Let's get to work building the types of communities you want. Where everyone has an affordable place to call home. We have the leadership needed to get us there."
-30-