For more information, please contact
Cecilia Stuart
Mike Schreiner kicks off Ontario Greens election campaign with rally in Toronto
May 4, 2022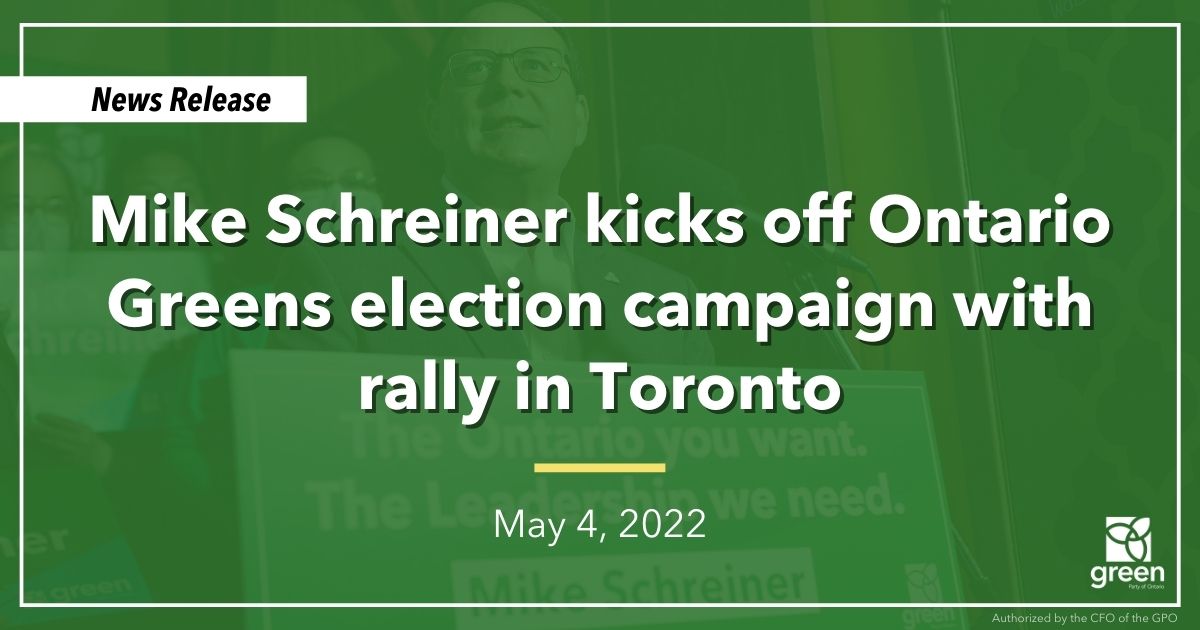 TORONTO — Leader Mike Schreiner kicked off the Ontario Greens' election campaign this morning at a rally where he unveiled the party's campaign slogan and the Hyundai Ioniq5 electric cars that he will be touring the province with over the next month.
"The EVs are charged up and so are we!" Schreiner said to the crowd gathered at Bampot Tea House, a local Toronto cafe committed to sustainability and green initiatives.
"I want to make it clear — I'm not here to buy your vote with another campaign gimmick. I'm here to earn it. I'm here today, asking you to vote Green, because the other parties are not up to the job."
"They're offering half measures or no measures that only paper over the cracks in Ontario's foundation. We need real, new solutions to old problems. And that's exactly what Ontario Greens are offering – solutions to tackle the climate emergency, the housing affordability crisis and the worsening mental health crisis."
Schreiner unveiled the Ontario Greens campaign slogan at the rally:
The Ontario you want. The Leadership we need.
L'Ontario que vous voulez. Le leadership dont nous avons besoin.
"We don't need more tweaks to a broken system," Schreiner said. "We need action now. We cannot afford to wait."
"We can work together to build the world you want, and Ontario Greens will provide the leadership to make it happen."
Schreiner will be touring the Toronto ridings of University-Rosedale and Beaches–East York before heading to Dufferin–Caledon later today. He will officially kick off his local Guelph campaign with a rally at 6pm in Guelph.
-30-