For more information, please contact
John Chenery
Schreiner kicks off Parry Sound–Muskoka campaign alongside Matt Richter
May 3, 2022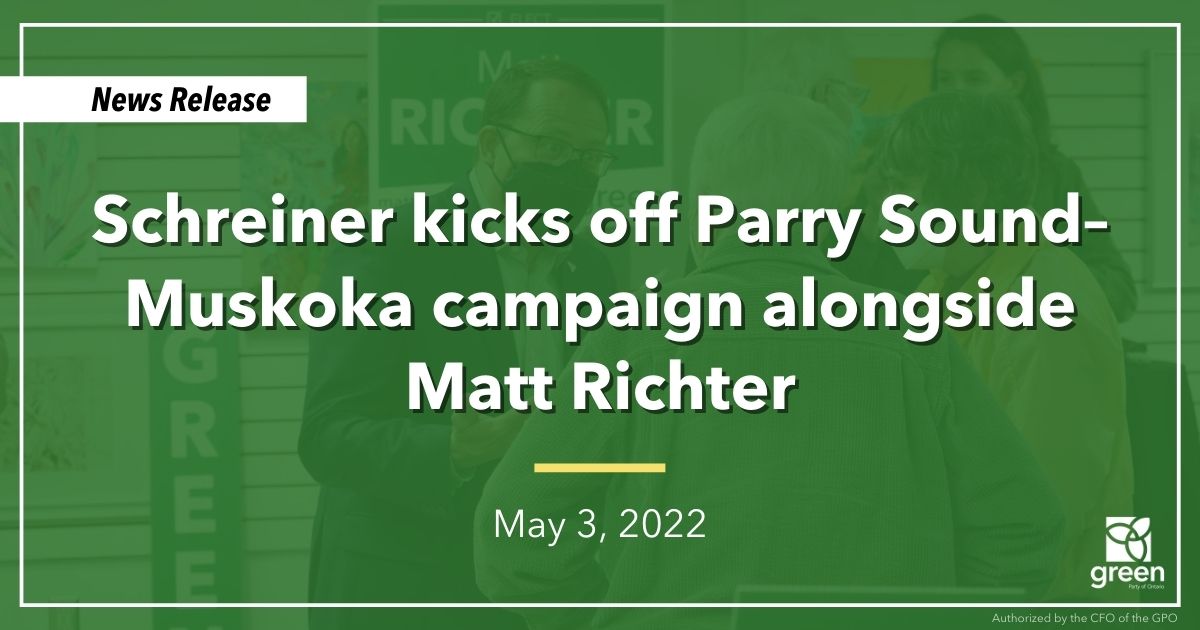 HUNTSVILLE — Mike Schreiner kicked off the Ontario Greens' Parry Sound-Muskoka campaign this evening with a rally at the Algonquin Theater in Huntsville alongside local candidate Matt Richter.
"I'm here today, asking you to vote Green, because the other parties are not up to the job," Schreiner said to the crowd.
"They're offering half measures at best or in most cases, no measures, that only paper over the cracks in Ontario's foundation."
During the rally, Schreiner announced that the Ontario Greens will fully fund the Northlander passenger rail as part of their election platform.
"Ontario Greens have new, improved solutions to the old problems facing the people of Parry Sound–Muskoka," Schreiner said.
"I'm not here to buy your vote, I'm here to earn it," Ontario Greens candidate for Parry Sound–Muskoka Matt Richter said as he addressed members of his community.
"It's time for change. Not change for the sake of change, but real change that makes people's lives better."
"I've been coming here a lot, and I can really feel the buzz around Matt and this campaign," Schreiner said.
Green momentum is surging. Richter's campaign already has hundreds of volunteers with more signing up each day to help elect him.
"Together we can make history in Parry Sound–Muskoka!" Schreiner said. "We're ready with a vision to deliver the Parry Sound–Muskoka and Ontario you want. And we have the leadership we need to get there."
-30-