For more information, please contact
Cecilia Stuart
Ontario Greens will include funding for the Northlander in their election platform
May 3, 2022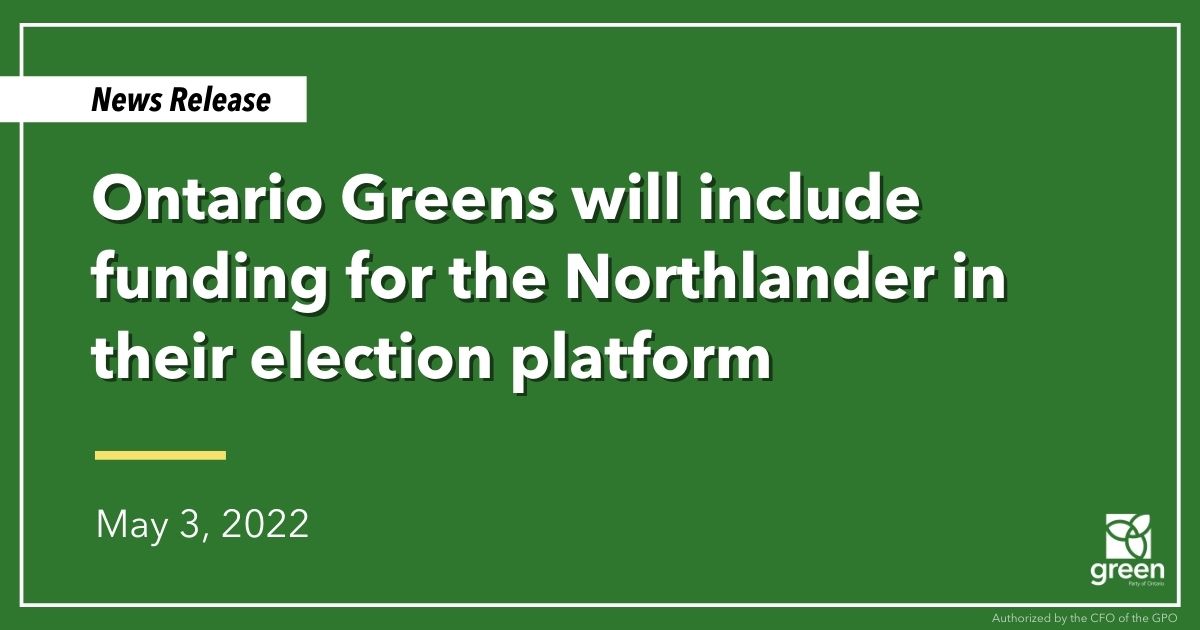 MUSKOKA — Ontario Greens will include funding for the Northlander in their election platform.
The platform, which is set to be launched next week, will include a funding commitment to immediately restore and improve the Northlander passenger rail service between Toronto and Cochrane. This includes funding for upfront capital costs of $220 million as well as annual operating subsidies of $12 million.
"Ontario Greens are fully committed to getting the Northlander back on the tracks," said Ontario Greens candidate for Parry Sound–Muskoka Matt Richter. "We can't afford to wait any longer."
With this commitment, Greens will improve service beyond the subpar 2012 levels, which led to stagnant ridership, was unsustainable, and ultimately led to the service shutting down.
"We can't go back to the way things were," Richter said. "We need new, improved solutions to the old transportation and affordability problems facing our region."
"Greens will make transit more affordable, convenient and accessible across the province," Ontario Greens Leader Mike Schreiner said. "The Northlander will help connect Parry Sound–Muskoka and northern communities."
"It's about making life more affordable and crushing climate pollution at the same time."
"My community has been without passenger rail for a decade now as the other parties play politics," Richter said. "It's time to finally provide the affordable and accessible transit that the people of my riding and the North need and deserve," Schreiner said.
Schreiner will officially announce his party's plan to include the Northlander in the Ontario Greens' election platform at tonight's rally in Parry Sound–Muskoka, where he will be kicking off the Ontario Greens' Parry Sound–Muskoka campaign alongside local candidate Matt Richter.
-30-