For more information, please contact
Cecilia Stuart
Ontario Greens will freeze urban boundaries to stop the sprawl
May 2, 2022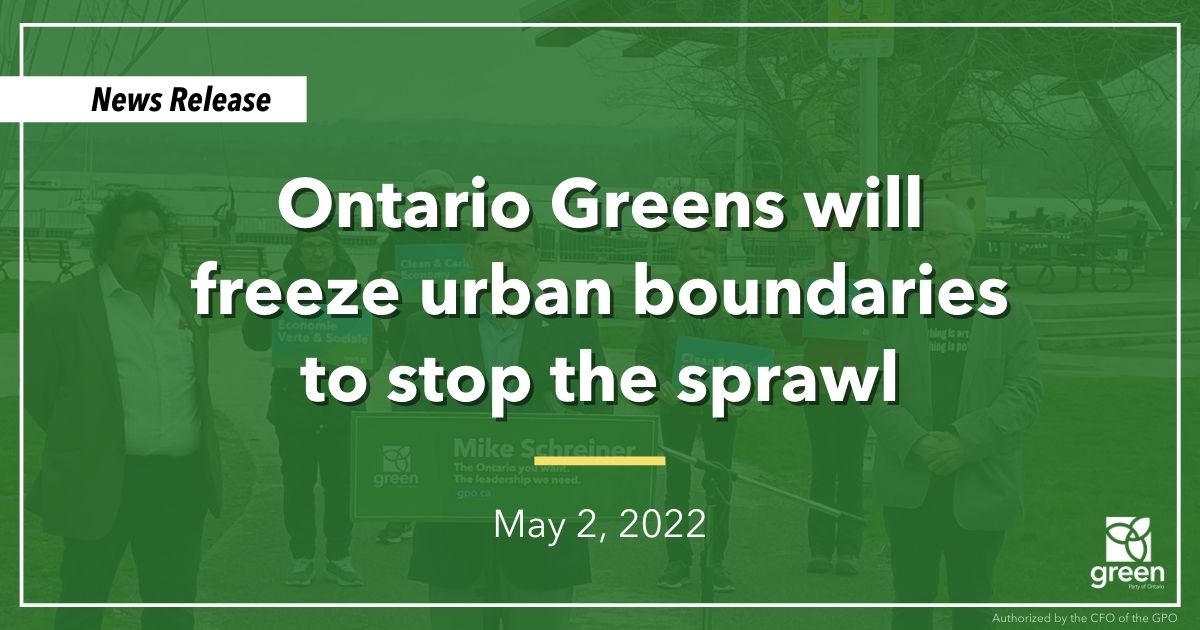 HAMILTON — Leader Mike Schreiner announced today that Ontario Greens will stop expensive urban sprawl and freeze urban boundaries.
"Greens will stop the sprawl. We don't need more expensive, long, soul-crushing commutes," Schreiner said at the announcement in Hamilton alongside local candidates Syam Chandra (Hamilton-Ancaster-Dundas) and Sandy Crawley (Hamilton Centre).
"We need livable and affordable communities that make life more affordable and healthy and protect the places we love."
Ontario Greens will stop the sprawl by:
Freezing urban boundaries
End exclusionary zoning to give people more housing options within existing built-up spaces, including fourplexes as of right
Clamping down on rampant speculation so homes can be for people first instead of deep-pocketed speculators
"Sprawl is expensive, bad for the environment, bad for food security, bad for our health and makes us more vulnerable to the impacts of the climate emergency by destroying the wetlands that protect us from flooding," Schreiner said.
There is more than enough space within urban boundaries to address the housing crisis — in fact, there are 88,000 acres within existing urban boundaries in the Golden Horseshoe region alone available for development.
At the announcement, Schreiner applauded Hamilton's recent decision to freeze their urban boundary, despite Doug Ford's best attempts to impose his expensive pro-sprawl agenda.
"Ontario Greens will continue to lead the way on stopping the sprawl and we will work with Hamilton and other municipalities as partners to build the types of affordable communities that you want," Schreiner said.
"And we have the leadership needed to get us there."
-30-