For more information, please contact
John Chenery
Schreiner at Brampton rally: It's time to stop the sprawl and put climate & health first
April 29, 2022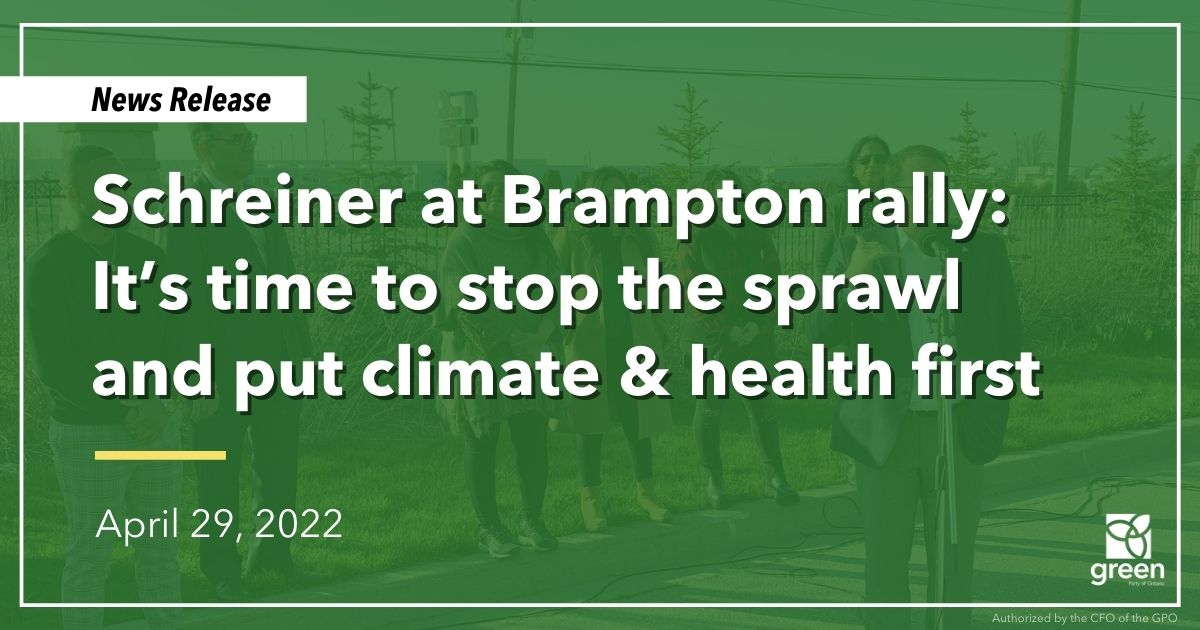 TORONTO — Ontario Greens Leader Mike Schreiner met with residents of the Highlands of Castlemore community in Brampton tonight and spoke at a rally to discuss the severe climate, air and noise pollution and health concerns the community continues to face. He was joined by local candidate for Brampton East, Jamaal Blackwood.
"We need to stop the sprawl and put climate and health first," Schreiner said at the rally. "The air and noise pollution this community is experiencing is unacceptable. Doug Ford calls environmental protections red tape, I call them protecting the people and places we love."
The Highlands of Castlemore community is caught in the middle of industrial sprawl development and is surrounded by illegal truck parking both on the Caledon and Brampton Side of the neighborhood. It's another clear case of urban sprawl and lax environmental protections making life less healthy for people.
"Sprawl is directly lowering our quality of life," Blackwood said. "We can't sleep at night because of the noise pollution from the trucks and light pollution from the warehouses. Toxic diesel fumes are making it harder to breathe and many of my neighbours are experiencing respiratory issues. We can't even open our windows to let in some fresh air because dust and dirt will come pouring in."
Schreiner called on the Ford government to immediately conduct air quality tests in the area and enforce environmental laws to protect people's health.
"Instead of continuing on the destructive path of Doug Ford's sprawl agenda, which is making life less affordable and less healthy, Ontario Greens will build livable, healthy and affordable communities." Schreiner said.
-30-